Editors' Eats: Francisco's Cantina
Fransisco's Cantina has laid in the recesses of my mind for the past three-and-a-half years. Each time I drive by the little building, I hear it calling my name. The Mexican cuisine has touched all of my senses, all of them, except for taste. I've seen it and smelled it, but I never quite worked up the courage to venture out to the restaurant. That all changed two weeks ago. As I entered the venue, I realized how deceptively large it was. From the road, it looked like a quaint little place, but inside it proved to be quite roomy. The first thing on my mind was the chips and salsa, the true test of any Mexican restaurant. Luckily for me and my fellow diners, they were excellent! The chips were well salted and obviously homemade, and the salsa provided a bright, garden fresh, burst of flavor.
The menu, while small, offered a plethora of yummy options for a reasonable price. My only critique, which I'm sure you are all tired of hearing, is their lack of vegetarian options. I settled on the Huevos Enchiladas: two corn tortillas with fried eggs and red and green salsa, topped with cheese. My pal and fellow EIC, Drew, had already been served his meal, and he was singing the praises of his tacos, so I had high hopes for the meal in front of me. I took a bite and… it was delicious! The salsa was spicy but not overbearing, and the egg was runny and perfectly seasoned. I was absolutely thrilled with this meal. It was tasty, affordable, and fresh! Additionally, the customer service was superb! We were attended to and our cups were never left empty. All in all, this was a fantastic way to end the year! Viking Views EIC Alexis signing off!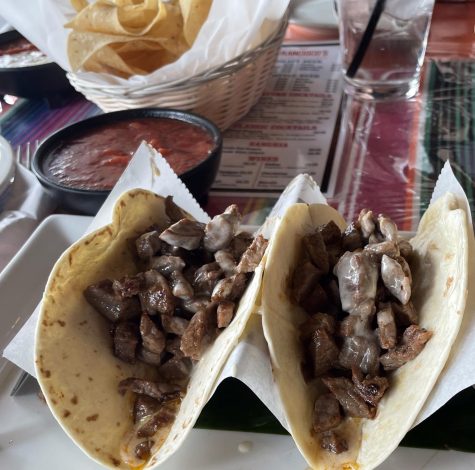 — Alexis Spangler '23
I feel like the term "hidden gem" is overused when it comes to local restaurants. However, Francisco's can only be described as such. Wedged in between local favorite Table Six and an uninspiring scrap yard, Francisco's does not have the same curb appeal that you would expect out of a five-star restaurant, but the age-old adage of "don't judge a book by its cover" rings true in this scenario. After you pass under the brightly covered decorations to enter the parking lot in the back, Francisco himself or one of his extremely polite and friendly employees will seat you in a festive and comfortable environment.
As for my meal, I ordered the steak tacos and let me tell you, they were amazing! The pieces of steak were expertly cooked to perfection and the queso topping just added to the already wonderful experience. If you have paid any attention to the previous Editors' Eats, you know I always order sweet tea whenever I am out to eat. Keeping the tradition, I ordered a sweet tea and to be honest, I was not expecting much. However, I think it's one of the better sweet teas I have ever had. I was thoroughly impressed with Francisco's and I will be making it a point to support Francisco's more frequently in the future. And with that, the last Editors' Eats of our career is a wrap!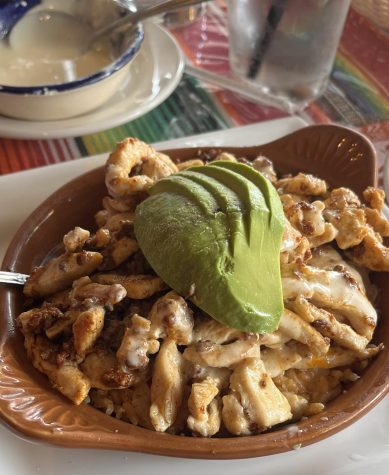 —Drew Stangelo '23
Lying in the depths of North Canton, located on Whipple Avenue, remains a treasure of Mexican delicacies. Francisco's Cantina Restaurant is one of those restaurants you keep passing by but never really stop to appreciate. I admit when one of my co-Editors-in-Chief mentioned it, I was extremely skeptical because the only thing I could remember is the horrid memories of The Blue Fig when it was there.
However, when strolling into the parking lot under the tunnel of colors, I was immediately put at ease. I had ordered the chicken chorizo bowl. All the flavors meshed in my mouth! The savory, the sweet, the salty, with a little spice, made this dish near perfection. Also, you can't have a good Mexican restaurant without good queso. And this restaurant has amazing queso, which makes the experience all the greater. Although the menu may seem small when compared to your typical Mexican restaurant, Francisco's prefers quality over quantity, which I hold in the highest regard. Francisco's, if you're reading this, job well done!
                —Kosta Volas '23