Leaps and Bounds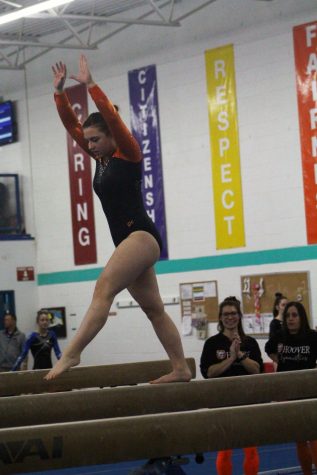 Have you ever wondered what it is like to be a part of a team of winners? Well, all of the girls on the Hoover gymnastics team have this privilege. The girls and coaches have stepped up to the plate immensely, and they all have had a successful season because of it.
Hoover gymnastics has flourished this season and head coach, Rhiannon Nicholas, discusses her thoughts as to why they've had such success.
"As coaches, we focus on creating a positive training environment while encouraging athletes to reach their potential," Nicholas said. "We focus on both physical and mental training."
Gymnastics is mostly a physical sport. However, there is a mental game. Junior Paige Daubenspeck talks about some of the things she's dealing with about her mental health.
"I had a really good season last year, ending with three national champion titles and have had a hard time with the change in my level of difficulty this season," Daubenspeck said. "I've progressed a lot over the summer and my skills have pushed me really hard this year to the point that I've been dealing with a few injuries. I'm hoping to come back next year stronger and healthier to be able to produce my best work for the team."
Just like any other sport, gymnastics practices are just as grueling, with a lot of endurance and strength training, as well as skills development.
"We spend time working on their routines as a whole as well as polishing and perfecting individual skills," Nicholas said. "We finish practice with strength and endurance conditioning."
Instead of having games or matches like other sports, gymnastics has meets and they are relatively different from anything else you may see.
"They get warmed up and stretch while the coaches attend a coaches meeting and are informed of the rotation plans," Nicholas said. "Then they warm up for their first event, then compete that event. They do this for all 4 events."
Gymnastic meets can last all day and it is very taxing on your body and mind. There are several things that gymnasts do to prepare for the meets.
"In the week before a competition, I tend to do routines on each event until I'm too tired to do anymore," Daubenspeck said.
Sophomore, Taylor Husk, is also a part of the gymnastics team, and she too has her own way of preparing for their meets.
"To prepare for a meet I usually just listen to my music really loud and eat a snack," Husk said. "Also I mentally go through all of my routines making sure I remember everything."
Gymnastics is a demanding sport and there isn't much time for an off-season like with other sports. Nicholas talks about how the girls are pushed every day to train.
"Gymnastics skills are both physically and mentally demanding- and in order to maintain their skills and continue to progress, they do not have an off-season," Nicholas said.
Daubenspeck talks about what types of exercises she's doing to better herself and make her a more valuable asset to the team.
"I practice year-round for up to 20 hours a week," Daubenspeck said. "The only thing that changes is in the summer our workouts get harder and we focus on making our routines more difficult with new skills."
While there are ups and downs in any sport, there are things that keep you coming back to what you love and there is no exception for gymnasts.
"My favorite part of being on the team is seeing all my old friends and teammates," Daubenspeck said. "Many of the girls who don't do club gymnastics anymore will still do high school so it's always fun to see everyone every year."
Being part of a team is also Husk's favorite part of participating in gymnastics.
"My favorite part about being on the team is meeting a bunch of different people and becoming friends for life with them," Husk said.
Coaches are not exempt from the highs and lows of any sport but, like athletes, there are still things that make them want to come back.
"I love seeing the girls grow as young women," Nicholas said.
As this successful season for our Hoover gymnastics team comes to a close, the coaches are starting to look forward to next season and what it might hold.