Experiencing Cultures
Orchard Hill Intermediate School creates language clubs
Orchard Hill Intermediate School has started its own high school-student-run language clubs for Spanish and ASL [American Sign Language] for the 2022-23 school year, which is organized and supervised by the Orchard Hill PTO.
Senior Zoe Zollinger has been going to the intermediate school every Thursday for the last six weeks as one of the student leaders for the Spanish Club. According to her, the third through fifth graders have been keen on the clubs.
"They sometimes get a little distracted because they keep asking 'how do you say this?' or 'how do you say that?' but they are definitely showing excitement for the language," she said.
The students play review games for fun and to test their remembrance of the language.
"We're working on basic things, such as greetings, feelings, colors, numbers, and pets," Zollinger said. "We want to make sure that the kids are enjoying learning Spanish, so we tried to pick fun topics for them."
Kids enjoying what they're learning is important but it can also help outside of school. Orchard Hill fifth grader Madelyn Truit wants to learn this language for multiple reasons.
"I was interested in it because I can go to a country that speaks Spanish and I can understand them, because I just want to travel," she said.
If students retain the things they learn during intermediate school, it can help them in the future during classes throughout high school. When they remember the lessons that they learned, the kids feel a sense of accomplishment.
"It's really exciting to see how proud of themselves they are when they can remember something from the week before or form a sentence without any help," Zollinger said.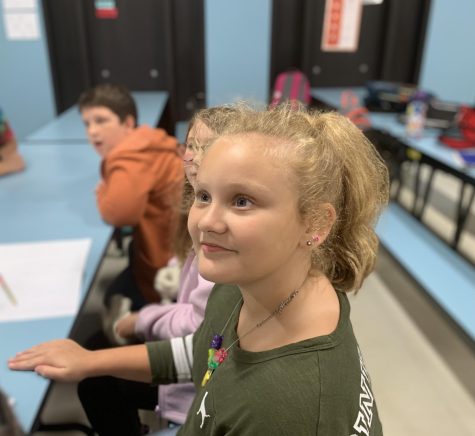 When Zollinger herself was in intermediate school, these clubs were not offered, but she did have Spanish as an exploratory.
"Spanish has become such an important part of my life, and seeing kids being exposed to the language for the first time reminds me of how far I've come. It excites me to help them begin their Spanish journey."
Zollinger recommends language clubs for other schools as well.
"As far as I know, Orchard Hill is the only [intermediate] school in NCCS that is doing a Spanish Club, but I think it would be beneficial to start them in the other [intermediate or elementary] schools as well. There are a lot of benefits to starting a language at a young age and it is something that we have been missing since the Spanish program in elementary schools ended."
Orchard Hill principal Mrs. Darlene Howald likes the turnout of the clubs.
"We usually have around 100-120 students participating in each [six]-week session," Howald said. "Our total school enrollment is just over 400, so we are getting about 25 percent of our student population involved in this."
The high school leaders provide a fun experience for the young students. After being in the high school classes the leaders going to Orchard Hill is helpful for the intermediate students.
"Our students look up to the high school leaders who work with them, and our high school students are great role models," Howald said. "The students get so excited when we partner with high school students in any way. The parents of our students also appreciate the interaction with high school leaders and encourage their children to be in these programs. Orchard Hill is very proud to have this collaboration with our high school."