A CAREing Community
Hoover High CARE Team helps students in need
The Hoover High school CARE [Coordinates & Aligns Resources to Engage, Empower & Educate] team is a group of teachers that identifies students in need of help outside the classroom and tries to provide aid to help students and their families to succeed. CARE is made up of principals, teachers, counselors, SRO officers and others who are there to help students and their families get anything they may need. Sometimes it helps families to secure food or even look for a new home. Information shared with the CARE team is kept confidential under FERPA, and the focus is on you and getting what you need to succeed. School Psychologist Mr. Steve Fricke, goes more into depth as to what the CARE team helps students with.
"This is what we call non-academic barriers," he said. "So things that aren't necessarily academic or they're not necessarily individual learning differences. It's those things that are outside such as environmental factors, like say there's a fire or there's incarceration of a parent or there's law enforcement involved or trauma or poverty or anything that's not academic."
If a student is identified as having one of these non-academic barriers, a referral is made to the CARE Team. Hoover High school Associate Principal Mr. Henry Householder explains how referrals to the CARE Team are made.
"It's typically staff members [who make the referrals] and a staff member will talk to probably somebody on the CARE Team about somebody they have a concern with and then based on the information that we gather, then we move that person forward if it's a definite need," he said.
Once a student is identified as being eligible for help from the CARE Team, they usually get connected with Mrs. Kathy Yaros, Hoover's Family Support Specialist [FSS]. Along with being on the CARE team, she works directly with students in need to get them aid, whether in school or out and about in the community.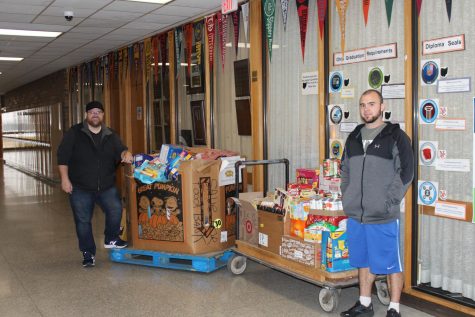 "I'm here to support you in any way I can," Yaros said. "So sometimes I am working very closely with school officials, but a lot of times I am working more in the realm of community and non-academic barriers. So a lot of times that comes out as homelessness, hunger, or just lack of resources. It's my job to connect them. [I try] to connect them to whatever resources I can find, so I work with community organizations, private citizens, and state organizations."
The CARE team is not just at Hoover High School. There is a CARE team at all buildings in our district, and 22 other CARE team programs around Stark County. FSS for Osnaburg Local School District [East Canton] Mrs. Jennifer Bates shares the work that she does for East Canton students and what it means to her.
"Each day is truly a new adventure, and no two days are ever alike," she said. "As a Family Support Specialist, I have worked with families who are experiencing chronic and/or acute medical challenges, who have experienced the death of a family member, who have lost their home to a fire, who are experiencing unemployment or homelessness and more. I enjoy guiding families toward creative solutions and witnessing both the smiles and the tears that are shared in my office. One of my greatest joys is seeing the faces of students light up when we pass one another in the hallway at school. To these students, I have become a safe person who is working wholeheartedly to help their families succeed. And this is trust that I treasure."
The CARE program follows a specific purpose, according to the NCCS website:
Vision: Every student has the support to be successful
Mission: To implement and sustain the CARE Team model though the coordination and alignment of resources
Purpose: To Coordinate and Align Resources to Engage, Empower, and Educate our youth
Guiding Principles: We foster school and community collaboration to address each student's needs; We promote trauma responsive and resiliency building supports for each student; We embrace a family friendly and culturally sensitive approach; We engage and empower the entire family to promote healthy development; We leverage community resources and funding to ensure services and supports are sustainable.
"I would do this work for free if I didn't need money to live, honestly," Yaros said. "It's the best work I've ever seen."