Tackling Concussions
For National Football League [NFL] fans, Thursday nights signal the start of a new football week. Many tune into the games on Amazon Prime Video to watch a primetime match-up. Although Thursday night football games have been highly criticized due to the lack of competitive match-ups, most fans find themselves watching the game simply because Thursday nights are rather barren on the sports landscape. However, one Thursday night match-up garnered more attention than most. On September 29, the 3-0 Miami Dolphins, led by an elite passing attack, took on the 1-2 Cincinnati Bengals headed by the dynamic duo of Louisiana State University alum, Joe Burrow and Ja'marr Chase.
Although the game was seen as a duel between two elite teams in the AFC, the spotlight was unfortunately taken off the actual game and put on Dolphins quarterback Tua Tagovailoa [pictured bottom right] when he was sacked with 5:57 left to go in the first half. Directly after the hit, Tagovailoa lost consciousness and was seen laying on his back with his arms seemingly paralyzed in the air with his fingers contorted.
Much of America, including ourselves, thought back to the infamous Ryan Shazier head injury that not only ended his playing career, but left him partially paralyzed. Tagovailoa's teammates looked on as he was carted off the field, many of them with blank stares as if they had just seen a ghostly spirit. The injury attracted heavy amounts of media attention along with lots of criticism of how the Dolphins treated Tagovailoa's situation. Just four days prior to the Thursday night game, Tagovailoa appeared to suffer a concussion after stumbling to the ground after another sack.
However, Tagovailoa was cleared to return to the game by the non-team-affiliated neurological specialist, even with the seemingly obvious signs of a concussion. Days after the Thursday incident, the neurological specialist was terminated by the NFL Player's Association. The incident raised many questions about the concussion protocol, not only at the professional level, but also at the college and high school levels.
After hearing about the Tagovailoa injury, psychology teacher Mr. Jim Draher, like most of America, was shaken up.
"I actually didn't want to look at it," he said. "I just read about it and knew about it. I didn't want to see it but based off of what I read and the severity of it, it was a bad injury. I'm surprised he's out playing right now, to be honest with you."
Hoover's sports trainer, Mrs. Jessica Williams, also commented on Tagovailoa's injury.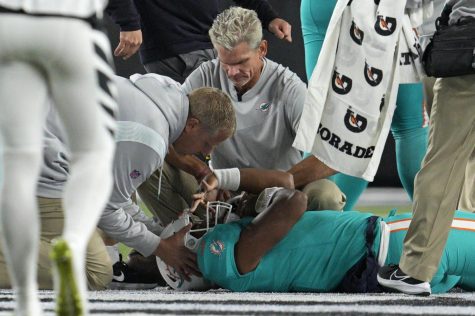 "The way Tua's concussion was handled was wrong from start to finish," she said. "That could have not only ended his career but had so many lasting impacts on his life. The brain is nothing to mess with."
Hoover Athletic Director Mr. Tom Oakes also saw the injury and decided to discuss Hoover High School's own concussion protocol with the training staff.
"It's definitely a concern and we've even discussed it here amongst our medical staff and the Cleveland Clinic just to try to get a better synopsis moving forward," he said.
As for that synopsis, Williams walked us through the current concussion protocol the school has in place.
"[First of all,] we monitor their symptoms," she said. "When they pass the impact test, they are then seen and cleared by an MD [Doctor of Medicine]. They will need to complete a six-step return to play [various aerobic, balance and movement activities] before returning to the field."
Oakes believes Hoover's concussion protocol and treatment are adequate and beneficial to the athletes.
"Obviously it's the questions, watching the symptoms, coming back the next day, and seeing if symptoms are still present," he said. "[Having them] see [Williams] the next day and get asked those questions and may go through some concussion protocols just to see if we're truly dealing with a concussion or not."
Draher walked through what happens to the brain when a concussion occurs.
"Essentially when a concussion occurs, the brain will hit the skull and that hit will cause trauma to the brain," he said.
Senior running back Luke Roach [pictured top middle] recently was diagnosed with a concussion. Roach explains how the blow to the head happened.
"I knew right away when it happened," he said. "I got tackled and I basically got thrown over my shoulder and hit my head really hard. I started seeing some lights everywhere and I felt dizzy too, so I immediately went off the field. I stayed out of the game until halftime and that's when I went down and told them about my symptoms and they just said you can't play."
When a student-athlete suffers a concussion, not only do athletics get affected, but so do academics.
"Something that I think people really overlook, especially at the high school level, is the academic piece of it," Oakes said. "We are now on Chromebooks and technology more than we've ever been in the history of education. If you're concussed, the screens and the bright light become issues. It's hard for kids to continue with their academics at that point. That's the thing that truly gets me. Certainly, we want to get them back on the field of play but it goes health, academics and athletics has to be the last of the bunch because we have to make sure the health and academics piece is taken care of first and foremost before we try to push an individual back on the field of play."
Roach acknowledges that the academic piece is challenging after suffering a concussion.
"Bright lights and looking at computer screens really did hurt my eyes for a bit but I got some blue light glasses and those helped a little," he said.
To make detection of concussions easier for the training staff, Hoover football players were each given a helmet that has a computer chip inside that alerts the staff when a player experiences a significant blow to the head. Williams is a big proponent of the new helmets.
"As far as the helmets go, they are always changing and evolving to make football safer for the athlete," she said. "The chips in the helmets help me to know where there is a hit that is hard enough to have the athlete checked out. It's hard to have eyes on everyone, so those chips are very helpful."
The Tagovailoa injury stirred up a lot of conversation about concussions in the game of football. As a parent, nothing trumps the safety and well-being of your child. Even with the health risks and the frequency of nasty head injuries in the game of football, Williams says the positives outweigh the negatives.
"I think football gets a lot of negative attention because of concussions and CTE [chronic traumatic encephalopathy]," she said. "If they are coached on the correct tackling form, the risk is significantly decreased. I would definitely let my future kids play football."