Editors' Eats: McAlister's
A recent addition to the Belden Village area, McAlister's has quickly become a North Canton staple. Although this fast-casual joint has been around for over a year now, I had yet to try it prior to my review.
After skimming through the menu, I quickly realized that there were very few options for a vegetarian like myself, so I settled on a cup of broccoli cheddar soup and a half-sweet iced tea with strawberry syrup. The soup was perfectly creamy and cheesy, and the broccoli and carrots were crisp and soft. While the soup wasn't straight from the McAlister's kitchen, it still tasted fresh and hot. The tea was ice cold and just sweet enough, with a strawberry flavor that was far from artificial.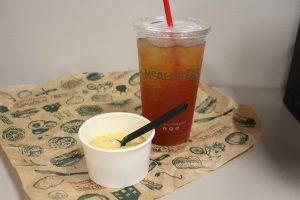 I had my doubts about the "World Famous Sweet Tea," but after the first sip, I quickly understood how it earned the title. While I did love the meal I got, I was slightly disappointed in the lack of vegetarian options, especially in their sandwich selections. Maybe in 1989, this would be acceptable, but it's 2022, and we need to grow. Regardless of their lack of vegetarian diversity, McAlister's provided a fantastic lunch, and it's definitely worth a visit.
— Alexis Spangler
McAlister's Deli has been a Stangelo family favorite for years now. Playing travel baseball growing up and taking multiple trips to southern Ohio where most of McAlister's reside, I have had the pleasure of eating at McAlister's many times. However, when the news broke that North Canton would be getting their own McAlister's, my family and I were ecstatic.
Although I have frequented McAlister's many times before, it is truly a pleasure every time I find myself digging into their delicious sandwiches and self-proclaimed "World Famous Sweet Tea." Now, I'm usually skeptical of anyone calling their product "World Famous," however, I order a sweet tea at just about every restaurant I go to and I've yet to have a better sweet tea than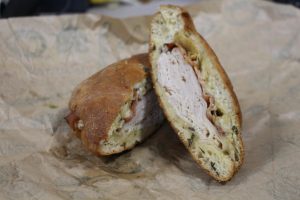 McAlister's unique brew. Frankly, nobody even comes close. I, of course, got a generous amount of sweet tea as well as a jalapeno turkey crunch sandwich. The sandwich was just delightful. In between two slices of a unique jalapeno roll, sit a hearty amount of warm turkey [the warmth of the turkey is a detail that I do not overlook, as it truly adds to the delightfulness of the sandwich], bacon slices, pepper jack cheese, mayonnaise and, to top it all off, jalapeno potato chips. The contrast between the warm turkey with the mayonnaise and the jalapeno chips is just exceptional.I am a McAlister's super-fan and I would recommend anyone who is looking for a nice meal to check out McAlister's. We're not allowed to give out more than five stars, but if we could, McAlister's most certainly earned a six-star rating.
— Drew Stangelo
McAlister's Deli is a newer restaurant in the Canton area sitting on Dressler Road. I have always wondered about what lies inside, but I never actually tried it throughout the short time the establishment has been there. Until, one day, I was pressured by my fellow Editor-in-Chief to give it a try. I ordered a half sandwich of the grilled chicken club and half of the king's club sandwich, as well as the country potato soup and the famous McAlister's Iced Tea.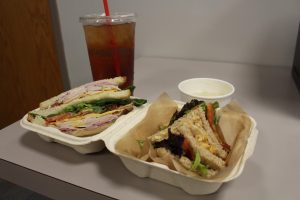 Overall, it was a delicious meal, but there were some ups and downs as usual. The famous iced tea was absolutely fantastic. It was a drink that paired perfectly with my food and had just the perfect balance of sweetness. However, my country potato soup was average. I felt it just came out of a can; however, the potatoes were nice and soft, and the soup had a nice creaminess. It wasn't anything too special.
I was then delighted by the grilled chicken club and king's club. Both the sandwiches were great and had a good balance of flavor with all the different veggies and meats. My only critique is that the sandwiches had a hard time staying together, but that's how it usually goes. My biggest problem with the restaurant was the prices. It had a high price tag for small food proportions that weren't really all that filling. All in all, I had a pleasant McAlister's experience and can't wait to see what other options they have to offer.
— Kosta Volas
The word phenomenal has a very strong meaning and doesn't tend to get thrown around very much, but I can assure you, it's the best word to describe the food and drinks at McAlister's. Food wise, I ordered the jalapeno turkey crunch with no avocado. The sandwich features a good amount of meat with the turkey and bacon. Then the combination of sweet, with the mayo and spicy, with jalapeno chips and jalapeno flavored bun works to perfection. The chips also add a great element of crunch to the sandwich.
Now, onto my personal favorite, the "McAlister's World Famous Sweet Tea." This sweet tea is exactly how all sweet teas should taste — a very rich and strong flavor, but not too powerful. This is what I would call the "Gold Standard" for sweet teas.
While McAlister's might not be the cheapest place to eat, I think it is a worthwhile price to pay for the outstanding food. Overall, I cannot recommend McAlister's enough. When it comes to rating them, I wish I can give them six stars, but unfortunately I will have to settle for five.
— Tyler Evans
Rating: 4 stars out of 5