History in the Making
Hoover girls golf team breaks multiple school records
The Hoover girls golf team is on a roll. Recently, the team beat the school's record twice in one week. They currently hold a record of 14, beating their previous record of 147. The individual low was also tied at 32 for nine holes.
Hoover girls golf coach Mr. Scott Snyder knew this year's group of girls were going to be special.
"I had a feeling early on something good could happen this season, so breaking the record the first time wasn't a surprise,"
However, Snyder found breaking the record for a second time quite surprising.
"They are tremendously motivated," he said.
Senior Hoover golfer Hannah Higgins expressed her happiness for the team having the initiative to beat their records.
"Breaking three records in one week is an amazing accomplishment and I'm so proud of my team," she said.
Senior Hoover golfer Halle Ellis thought breaking the record was surreal.
"I was on the team when we set the previous record two years ago and I remember everyone talking about how it would stand for a long time," she said. "It was cool to watch the team evolve."
Snyder knew the team was excited about their achievements, but they kept it low key while celebrating.
"They are definitely proud of their accomplishments, but also focused on the season as a whole," he said.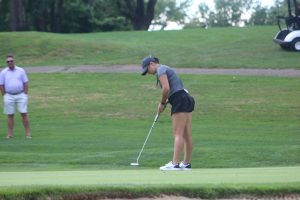 Ellis commented on the atmosphere after the record was broken. She said it was very fun because everyone was joking, laughing, and having a good time.
"Everyone was kind of in shock," she said.
Higgins also felt shocked, yet excited, about the broken records.
"I don't think any of us expected us to break those records," she said.
In contribution, three players [sophomores Alyssa Evans, Ava Kemp, and Kylie Porter] hit their career lows [Evans 40, Kemp 35, and Porter 36] in the same night after already breaking the school record. Hoover came in first at sectionals Oct. 4 at the Elms Country Club in North Lawrence with an overall score of 331. Kemp finished in first place overall with a score of 72 [even par].
Ellis found it fun to watch the girls learn more about the game and see their hard work start to pay off.
"This season has really been a team effort, so it's great to see everyone benefiting from the time they're putting in," she said.
Higgins was also extremely proud of the girls for hitting their career lows in the same night.
"They have all worked super hard and seeing their hard work pay off is really fun to see," she said.
Snyder wouldn't be surprised if the team hits more career lows by the end of the season as he believes that this group of girls is special.
"They've put a lot of time and effort into their games," he said. "So career lows are eventually going to happen. They are focused and intent on playing well every time they tee it up."
In addition to breaking the school record twice, Ellis tied the individual low and now holds a record of 32.
Ellis has always had the record in the back of her head throughout her high school career.
"There have been some amazing golfers to go through Hoover's program," she said. "It's crazy to think of myself as being at that level."