Uncharted
Following an almost five-year hiatus of the "Uncharted" series on PlayStation consoles, the next story of Nathan Drake and his thieving companions was told by the movie adaptation Feb. 18. The new blockbuster starred Tom Holland as the lovable protagonist Nathan Drake and Mark Wahlberg as the wise veteran Victor "Sully" Sullivan. The beloved video game saga was home to four mainline games and several spin-offs on Sony's PlayStation consoles from the late 2000s up to 2017.
In those games, you play as Nathan Drake, a thief and globe-trotting adventurer searching for lost pirate gold and secrets. The games were very story-driven, and the four mainline games told the entire story of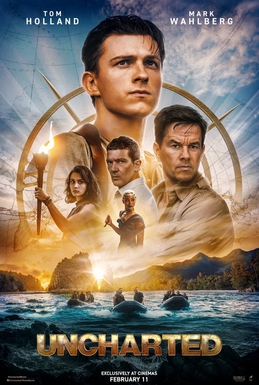 Nathan Drake from his early days to his eventual retirement. I was very curious to see where they would take the story of this gaming icon and when it finally came out, I rushed to the theater in anticipation. In the aftermath, I was not disappointed in the slightest as a major fan of the original series.
"Uncharted" decided to take a prequel approach, recounting the early days of Drake's adventures. The several scenes I recognized from different games were simply thrown into this movie with different contexts and different outcomes. This aspect of the movie was almost one of my favorite parts because I knew those scenes so well. It was a crazy subversion once something different happened and the entire scene was completely different.
There was criticism for the casting choices prior to the release of this movie, citing that Tom Holland and Mark Wahlberg looked far too young for the characters they were portraying. Once I realized the movie was a prequel story, this criticism became a non-issue for me as it makes sense in the timeline of the story. However, it was distracting seeing these Hollywood stars portraying these rugged and average adventurers. Other than that small gripe, their performances were excellent, and the chemistry between the two was really highlighted as the movie gave them a sort of "buddy cop" that compliments their dynamic from the original. I am disappointed they tarnished the character of Sully, being a father figure and mentor to Nate, as in the games he basically raised him since he was twelve years old. In the movie, they are seen to be meeting for the first time and clearly do not trust each other for a while.
Other than the perfect and charming acting performances, the movie is simply entertaining. It balances a long explanation of the plot with a giant action scene. The movie perfectly matched the pacing of the games, and the two-hour runtime flew by as I was hit with one intense sequence after another while also being invested within the character's personal struggles and motives.
The movie also rewarded fans with small Easter eggs throughout, and even a small cameo by Nolan North, the original voice actor for Nathan Drake in the saga. Overall, "Uncharted" is a blast and an absolute treat for new and old fans alike. The movie is a roller coaster ride of fun, and unlike a lot of its blockbuster counterparts, has interesting, likable and conflicted main characters. With the two end-credit scenes hinting at a continuation of this story, I sincerely hope that this movie leads to a saga which will be the Indiana Jones of our generation.