Editors Eats: Bubble House
With the rise of boba and milk tea's popularity, Bubble House in Belden Village Mall is the perfect place to get affordable teas, sundaes, rolled ice cream and Açaí bowls. With many customizations available and fun items to choose from, Bubble House is sure to be a hit with people. The neon storefront is very inviting, and the kind staff will make you want to come back for more.
Typically struggling with nerves when ordering at any restaurant, ordering at Bubble House while not knowing exactly what I wanted was more than just intimidati
ng. This sense of fear was very short-lived though due to the kindness that the workers there exude. They were very patient with me while I debated on what type of tea I wanted and changed my mind a thousand times. I ended up settling on mango milk tea, which I had never tried before — and thoroughly enjoyed it. The milk tea was sweet rather than bitter and I found myself greatly appreciative of that. In ordering the Nutella Açaí bowl, which I had never tried before, I was a little skeptical, but overall thought it was really good. My only complaint would be that there isn't really any instruction on what to do if you intend to save your Açaí bowl for another time. Though this is partially my fault, I still think that it would be a great idea to inform customers about that.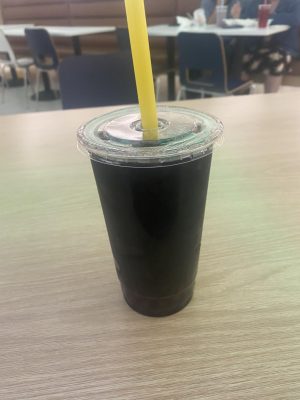 — Madison Rice
When I went to Bubble House, I ordered a raspberry fruit tea with peach bursting bubbles. I also bought the Açaí berries bowl which was a smoothie-type base of Açaí berries, almond milk and bananas, with strawberries, granola, and blueberries on top. The Açaí bowl was incredibly good and had the perfect balance of fresh and sweet tones. The berries added a great pop to the bowl, and the granola added a much needed crunch. However, my favorite item was definitely my fruit tea. They don't over ice the drink, adding just enough to keep the drink cool. The raspberry flavor was perfect and light, with a small sweetness to it, and it didn't have the syrup-like consistency that some fruit teas have. Finally, the bursting peach bubbles were plentiful and had a great flavor to them as well. I can definitely recommend Bubble House to everyone I know.
— Alexa Ogilvie
Normally when I get boba, I tend to go for the milky teas. This time, however, I went with a blueberry fruit tea with strawberry bursting bubbles. Bubble House offers the usual flavors and varieties of teas and bubbles, but they also offer rolled ice cream and Açaí bowls. While I didn't get either of those options, my tea was delicious. Their sizes for the teas are regular or large, and for the price, a large was decently sized. Sometimes, the boba, or bursting pearls in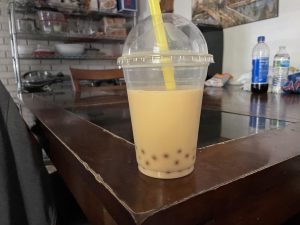 mt case, to drink ratio is rather bad, but not at Bubble House. I wasn't overpowered by the pearls, but I still was able to enjoy the wonderful burst of strawberry intermingled with my blueberry tea. The taste was delicious, and I thoroughly enjoyed my drink. If I ever wanted some delicious boba tea, I'd definitely stop back at Bubble House.
— Katie McMullin