A Giant In The Sky
Musical Theatre Titan Stephen Sondheim passes away at age 91.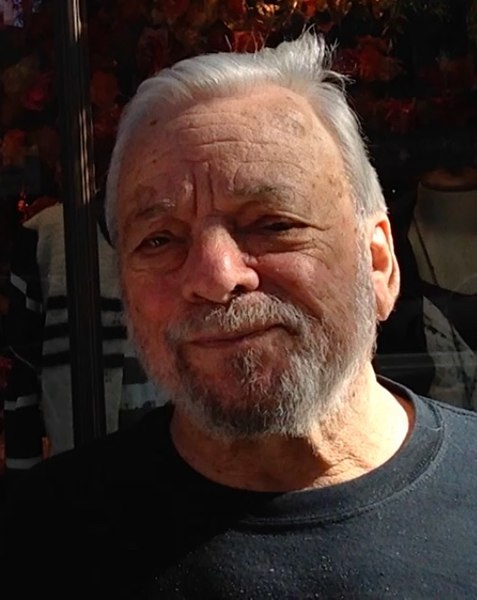 "If I cannot fly, let me sing." – Stephen Sondheim
The lights of Broadway have been dimmed forever with the passing of legendary composer Stephen Sondheim. The mastermind behind multiple hits such as "West Side Story," "Gypsy," "Sweeney Todd," "Into the Woods" and more died on November 26th, at the age of ninety-one. 
Sondheim was born and raised in a Jewish family in New York City. Growing up in the town where his name would become legendary, Sondheim was introduced to musical theater when he was nine years old. His father had taken him to see "Very Warm for May." In an interview with TIME magazine from 2007, entitled 'Master of the Musical". "The curtain went up and revealed a piano," Sondheim said. "A butler took a duster and brushed it up, tinkling the keys. I thought that was thrilling."
Over his lifetime, Sondheim won many awards for all of his amazing works, including eight Tony awards, eight Grammy awards, an academy award, a Pulitzer, an Laurence Olivier and the 2015 Presidential Medal of Freedom. Sondheim was reportedly working on a new musical when he passed, which was said to have had a table read with Nathan Lane and Bernadette Peters. 
Throughout his time, Sondheim made groundbreaking advances in multiple fields. He inspired and often spoke with the late Johnathan Larson, who created the hit musical "RENT" which advanced the public understanding of HIV/AIDS and the LGBTQ+ community. Sondheim longed to create a world where everyone belonged, and pushed for breaking boundaries. The star came out as gay when he was forty years old, often vocally supporting all that he could in the LGBTQ+ community. 
After his passing, one of the most vocal people to mourn and celebrate Sondheim's life was actor, composer, writer, and director, Lin-Manuel Miranda. Miranda had just worked with Sondheim on "tick,tick…Boom!" a musical by Larson. Sondheim's voice can be heard in the movie during a scene where Larson (portrayed by Andrew Garfield) receives a voicemail from Sondheim, which mimics what happened in real life. 
Miranda took to Twitter after Sondheim's passing to change his bio to one of Sondheim's most famous quotes, "Look at all the things you gave me. Let me give to you something in return. I would be so pleased." The quote comes from Sondheim's famous musical "Sunday in the Park with George."
Besides being in the news for the Larson biopic, Sondheim was most recently seen attending a post-pandemic opening show of his revived musical "Company" starring Katrina Lenk and Patti LuPone. This marks the sixth Sondheim production that LuPone has been in. Marianne Elliott, the director of the revival, dedicated the performance and show's entire run to Sondheim.
LuPone was another vocal star who was very vocal on Sondheim's passing, having had a friendship with him that had spanned decades. She described his passing as a complicated experience and spoke on how the last time she saw him was at the first preview for "Company." She mentioned how she had missed the party afterwards, being tired from the show, and missing talking with Sondheim. She ended up emailing him a few days later, but she talked about how she wishes she could go back in time and go to the party.
"He is – he was very emotional, had a – you know, a very deep well of emotion," LuPone said in an interview with David Folkenflik. "He was searingly intelligent. And a lot of people have written to me today. He wrote the soundtrack of our lives. He didn't sugarcoat or dismiss human frailty. He wrote about it. His music and his lyrics are incredibly complex. And to achieve a melody line and to achieve articulation and enunciation in his lyrics, it elevates you. It makes you feel as though you can call yourself – truly call yourself an actor or a singer."
Feeling the same impact that LuPone had, Miranda, using Twitter, put out a small message on the day news broke of Sondheim's passing. "Future historians, Stephen Sondheim was real," Miranda said. "Yes, he wrote Tony & Maria AND Sweeney Todd AND Bobby AND George & Dot AND Fosca AND countless more. Some may theorize Shakespeare's works were by committee but Steve was real & he was here & he laughed SO loud at shows & we loved him… We love you. I love you. THANK YOU."
On Sunday, November 29th, hundreds of Broadway performers and personnel gathered on the streets of the theaters to pay their respects to Sondheim. Together the group performed the haunting act one finale of "Sunday in the Park with George" entitled "Sunday." Multiple performers were there, giving an emotional song ever more depth. Miranda was seen, choked up, leading the group, and reading from Sondheim's personal autobiographies. 
Throughout his life, Stephen Sondheim has inspired and amazed millions of people through his songs and lyrics. One of Broadway's brightest lights has gone out, and the world of theater will never be the same. May his memory be a blessing.