'My Guardian Angel'
HHS lunch lady helps colleague in need
To Hoover lunch lady Mrs. Connie Pittello, her co-workers are her angels, for what began as a typical day on Dec. 21 quickly became one she will never forget.
All staff members are required annual certified safety training in the event of an emergency; however, no one could have anticipated the emergency that day. As Pittello was having lunch, she said something didn't feel right, which was followed by her struggling to breathe.
Pittello was choking.
Panicking and alone in the back of the kitchen, she began to pound her feet on the ground.
"I really thought I was going to die — I really did," she said. "I was so scared."
It was at that moment Mrs. Mandy Mihalcin walked around the corner into the kitchen.
"I am just so glad I walked around that corner," she said. "I could just tell something was wrong."
Acting immediately, Mihalcin began performing the Heimlich Maneuver [see diagram].
"She [Mihalcin] just grabbed me really quick," Pittello said. "She worked really fast too. A couple of times she went through the motions. It could've been worse — it could've been an absolute disaster."
Mihalcin spoke about the thoughts racing through her mind during the emergency.
"It's a scary thing," she said. "You go through your training in your head. I asked myself, 'will this really work?' It is a scary thing."
For her, it was not a courageous act to instinctively react; rather, it was looking out for and helping those in need.
"Anyone would've done it," she said. "We can't have anything happen to our Connie. She would've done it for me."
Mrs. Cheryl Furbee was there that day and spoke her colleague's humility.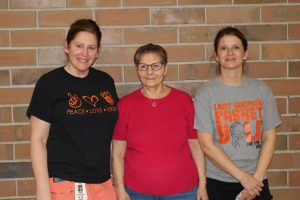 "Anything Mandy [Mihalcin] does is done with love and without expectations of anything in return," she said. "She has a helper's heart.  This is true of her at work and in her personal life."
For Pittello, she will always be grateful.
"That day, I wore a shirt that said 'hope, love, and prayer,'" she said. "Mandy — she is my guardian angel."
Hoover's lunch ladies are the heart of the school. A power team, they work countless hours to provide students and staff alike with breakfast and lunch, as well as always offering a friendly smile. Over the years, the team has grown closer. Both camaraderie and love have further crafted such an inspirational work atmosphere.
"I think what makes us a great team is our love for the kids," Furbee said. "For me personally, this has become more than just a job. I genuinely care about every student that crosses my path, and I'm sure the rest of the team would say the same."
Being kind and cheerful at each interaction is still a priority for this staff.
"We all have our days, of course, you're tired, life is stressful, you're feeling overwhelmed," Furbee said. "That's where this team steps it up and says 'I'm here for you' and 'what can I do to help?'  It is just like a family — it's a wonderful place."
For this staff however, that family bond is stronger than ever before.
"Mandy saw Connie in distress and said 'my co-worker, my friend, I've got you,'" Furbee said. "We've still got our whole team together. At the end of the day, I think we're all lucky to have each other."
About the Contributors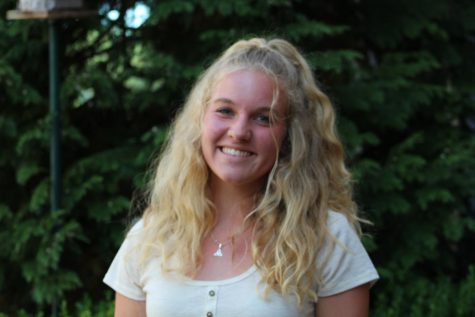 Bella Coneglio, Copy Editor
I am a sophomore, this is my first year in newspaper. I joined to challenge my writing skills as well as be around my friends.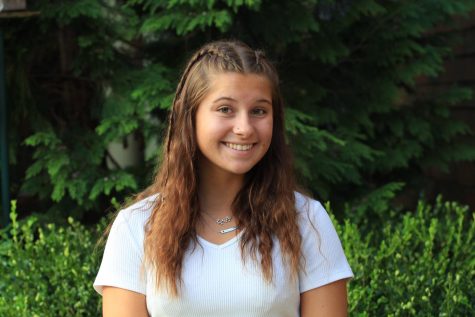 Camryn Cooney, Chief Entertainment Editor



Hello!! My name is Camryn Cooney and I am the Chief of Entertainment for the 2021-22 school year. I am a sophomore and a second year staffer! I was...