Football Phenomenon
Although the Super Bowl feels like it was ages ago, the National Football League (NFL) is still buzzing. With the new league year starting, free agency, contract extensions and franchise tag deadlines are all rapidly approaching. The NFL season might be over, but that doesn't mean the action does. This offseason in particular will help shape franchises for the next decade. How so? Many teams are looking for the most important position in football: the quarterback. With retirements such as future Hall of Famer Phillip Rivers and the looming retirement decision for New Orleans Saints quarterback Drew Brees, not to mention the wild rumors surrounding disgruntled Houston Texans superstar Deshaun Watson, this offseason will be one for the record books. However, some say this amount of movement in the league at its top position will lead to problems. Also, some say the players, and especially quarterbacks, have too much control over the game. As is the case with Watson who will not even return calls from the Texans front office. This is all due to being unhappy with the direction the franchise is going having gone 4-12 after failing to bring in weapons for their undeniably talented quarterback. However, I believe that the movement that is expected to happen this offseason amongst teams' star quarterbacks is undoubtedly great for the league and will pique the interest of even some of the most casual fans during a time wherein most years very little news occurs.
We have already seen multiple moves amongst quarterbacks this offseason. Between former Philadelphia Eagles quarterback and Super Bowl champion Carson Wentz getting dealt to the Indianapolis Colts, along with a blockbuster trade between the rebuilding Detroit Lions and the Los Angeles Rams, who hope to contend for a Super Bowl this year, it's already been a busy offseason. There is even more yet to come too. The aforementioned Watson has been linked to the New York Jets, Denver Broncos and San Francisco 49ers as possible trade destinations, all of which would transform the direction of each franchise. As for teams who don't look to be large spenders or would prefer not to give up any draft capital in order to acquire a game-changing quarterback, the NFL Draft is loaded with potential superstar field generals. Clemson's Trevor Lawrence, who is projected to go number one overall in the upcoming draft, could breathe life into a struggling franchise of the Jacksonville Jaguars. Although Lawrence seems to be the odds-on favorite to be selected when the Jaguars are on the clock, there are many other talented and ridiculously athletic quarterbacks looking to be selected. Utah State's Zach Wilson, Ohio State's Justin Fields and Heisman runner-up as well as national champion, Alabama's Mac Jones. All of these talented quarterbacks, whether they're already in the league or waiting to be drafted, are cause for excitement amongst even the most casual of football fans. This offseason will be unprecedented as many teams will have a new face at football's most important position, the quarterback. It is great for the league and will continue to intrigue and increase popularity in the game even after the games have been played.
About the Writer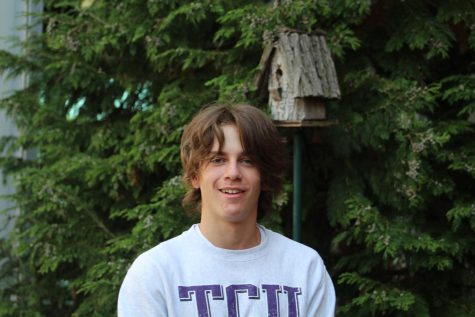 Drew Stangelo, Chief Sports Editor
My name is Drew Stangelo. I am a sophomore here at HHS. This is my second year on staff. Outside of school, I participate in baseball and of course newspaper....