Celebrating Scholarship
Hoover honors NHS inductees, senior Summa students
Students at Hoover High School are often recognized for their accomplishments. Two ways students are recognized is through the Summa Scholar Celebration and the National Honor Society [NHS] induction.
Hoover history teacher, Mr. Adam Wile, serves as the chair for the Summa Scholar celebration. This event celebrates seniors who have achieved a 4.325 GPA or higher throughout high school.
"The Summa Celebration is an opportunity to not only recognize the students who have consistently performed at a high level academically, but to recognize those individuals that have helped contribute to each student's successes as well," he said.
Each recognized student chooses two educators that they honor, typically one from kindergarten through 5th grade, and another from 6th grade through 12th grade. Ultimately, the event is a celebration of not only students, but the educators as well.
"It's really a great opportunity to not only celebrate the successes of the students, but to bring together both parents and educators to reflect on how all three elements play a crucial role in anyone's success," he said.
When it came time to begin preparing for the celebration, the process was sure to be different than in previous years as a result of the pandemic. I
initially beginning in early January, the original plan was for the celebration to be entirely virtual.
"The administration decided it would be preferable to have the ceremony in person," he said. "Then due to space limitations, and with trying to keep everyone socially distanced appropriately, it was decided the ceremony would be moved to Hoover Hall from Walsh University."
Once the decision was made to hold the celebration in person, the rest of the details were generally the same as in previous years, with a few exceptions.
"We just needed to make a few small minor adjustments," he said. "For example, the educators would be invited to view online as opposed to joining in person."
Ultimately, the Summa Scholar celebration will be held in Hoover Hall on March 23, with only a few changes from the past.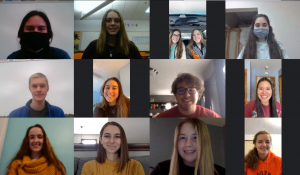 "NHS is a national organization based on four tenets, recognizing character, scholarship, leadership and service," advisor Miss Allison Medley said.
Each year, students that display all four of these tenets are chosen to be inducted into NHS. Many of the activities completed by NHS as a group focus on the pillars of service.
"Activities that we tend to plan are service activities because the other three tenets are things that are taken care of in the classroom and in other aspects of school," she said. "We plan service activities based on individual service projects [ISP], and basically what that is, is a long term service commitment in a specific area."
As with the Summa Scholar celebration, the induction ceremony for NHS has seen some changes as well. Perhaps the most notable change is that instead of being held in January, the induction ceremony was postponed until March 15.
"We also needed to keep everyone spaced out, so we couldn't use the auditorium like we normally do," she said.
Instead, some adjustments were made to the ceremony as a whole, and it will be held in the gym and will look slightly different than normal.
"Basically what we're doing is meeting in the gym, and it is going to be a shorter ceremony than usual," she said. "We don't have a guest speaker, which is what I would normally have, but we still have student speakers."
Senior Katie Cantor is both a member of NHS and a Summa Scholar. Before the strike of COVID-19 last year, she was able to have an induction ceremony for NHS, so she knows how important it is to students.
"I'm glad that we're still having induction ceremonies, because it really is special to be included in those groups, and those people deserve recognition," she said.
Even though she may wish the ceremonies look the same as they typically do, she is thankful that they are able to happen despite the differences from the past.
"I'm also happy that both of them will have an opportunity to be in person," she said. "Of course, it's imperative that the celebrations look a bit different for safety concerns, but I still feel that they're giving students recognition."