Learning Life Skills
Transition U offers students home, work and community skills
As the end of the year and graduation are quickly approaching, many seniors are making their final decisions on which path they will take as they begin their adult lives. Most are planning on some form of higher education, whether it's college or trade school, while others are going straight into the workforce. Another option has become available for students graduating from Hoover's Special Education Department: Transition U.
Mrs. Fran Budgake, mother of Transition U student Casey Budgake, explains the concept of Transition U.
"Transition U is an alliance of North Canton Hoover and Walsh [University] for continuing special education up to age 22 to teach skills to transition from student into adult life," she said. "Students learn independent living skills for home, work and community and use the campus and community as a classroom extension."
During a typical, COVID-free year, students up to age 22 go to Walsh University to take life skill and career preparation classes.
Transition U teacher Miss Courtney Jeans greatly appreciates the collaboration and the experience that it gives the students.
"I think what makes Transition U so great is how unique the program is because of the district's collaboration with Walsh University," she said. "It adds an extra special twist to the typical learning environment."
Jeans spoke regarding the real-world application.
"The campus is our classroom and the students are embraced and encouraged, and treated like Walsh University students," she said. "The students get a Walsh I.D. when they first arrive and they leave as Walsh Alumni — the in-between is where the learning happens and growth takes place. It's also great because of the many people involved to make it the way it is. It's a true collaborative effort, and I am glad I get to be a part of it."
Along with the college experience, students gain experience in everyday life skills.
Special Education teacher Mrs. Janice McCarthy often works with Hoover students who go to Transition U after they graduate from high school.
"Transition U is a continuum of high school, but it allows the kids to be in a college setting where they continue to learn independent living skills and all of [the] transition skills that you need for a more independent life in the future," McCarthy said.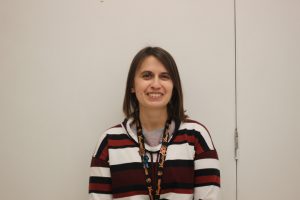 Casey Budgake, student at Transition U, elaborates.
"In high school, I learned about math, science and reading," he said. "In Transition U, I use those subjects to shop, cook [and] tell when break and lunch are done and I need to return to the classroom."
Classes to prepare for independent living don't wait until college, though.
McCarthy begins preparations during the students' high school years.
"I really focus on work readiness skills and the life skills in my Transitions class [high school life skills course], so I'm kind of prepping them for Transition U," McCarthy said.
She helps the students at the high school to run the Hot Spot and teaches career explorations.
Jeans believes the courses the students take prepare them for a better life and more independence.
"The main goal is to get students to understand budgeting…and enhancing those employability skills is also very important," Jeans said. "Hopefully by the end of their time with us, they're employed or connected somewhere, and able to go to work and be employed."
This year, due to the COVID-19 pandemic, classes are taking place at the Hoover High School campus instead of on the Walsh University campus.
The students report to Jeans' classroom each morning and spend their day with her, continuing their journey to becoming more independent.
"The students are making the best out of it at the high school," Mrs. Budgake said.
Casey Budgake, like many other students, had enjoyed going to campus.
"The great thing about college is going off campus to work, shop and learn to use a laundromat," he said.
However, Mrs. Budgake is glad her son got to experience one school year on campus before he graduates from the program this spring.
"Although I have taught Casey some independent living skills, his attendance at Transition U has opened opportunities to allow him to explore and learn skills that challenged us as parents to let go," she said.
For Casey, the two years in the Transition U program will end on a happy note, as he has a big future in store.
"Casey will graduate in May with a job in dietary at Sanctuary Grande senior living," Mrs. Budgake said. "We are so proud of him."