Braving the Shave
St. Baldrick's, a foundation to raise money for childhood cancer, has been a staple, not only in North Canton, but all over the world for many years now. Starting in 1999, the company has raised hundreds of millions of dollars towards childhood cancer. St. Baldrick's is now the top private funder of childhood cancer research grants in the U.S. and around the world. Children all over the world depend on their funds every day and the company never ceases to amaze. North Canton Schools have been involved with St. Baldrick's for 4 years now and every year there are participants from the district that shave their heads to raise money for the cause. This year, COVID has affected not only the state of the fundraiser, but unfortunately the success as well. Assistant Superintendent of North Canton Schools Mr. Dave Pilati explains how the virus ultimately affected the success of the fundraiser this year.
"So far this year, our district has raised $60,267 which is about 53 percent of our total raised last year," he said. "Our two districts [North Canton and Jackson] have raised almost $139,386 so far while last year, we raised more than $240,000 together."
Results are lower across the nation. However, compared to the rest of the U.S., North Canton is doing relatively well this year, despite the setbacks.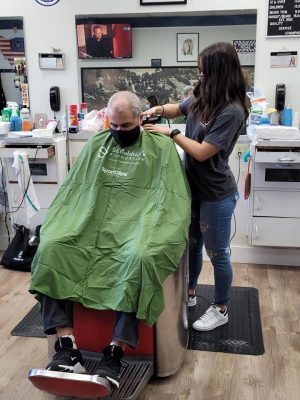 "The North Canton Racquet Club St. Baldrick's event, which is the one for this area, is #1 in the nation right now out of all 30 St. Baldrick's events," Pilati said. "In 2020, the St. Baldrick's' in our area was #3, so we are definitely doing well in our area compared to the rest of the nation."
Since there are so many complications with COVID, people are also encouraged to participate in "Do What You Want" week [DWYW]. Participants are encouraged to shave their heads on their own, or do some sort of challenge at home. Whether it be jump roping, hot pepper eating, or running a mile. The challenge can be anything you could possibly think of. Doing these challenges, participants can raise money for the disease in a new sort of way.
Hoover teacher Mr. Dave Burtscher, is one of the participants that shaves his head every year in support of the children that suffer from the brutal disease. Despite COVID, he has still decided to shave his head on his own this year.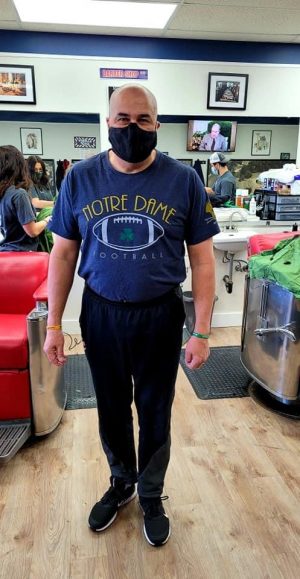 "I've always had a special place in my heart for kids," Burtscher said, "especially kids who are young and kids who suffer from cancer and other diseases and other life-threatening types of illnesses."
Usually, there is a big head shaving event for people all over the district at the North Canton Racket Club and participants attend to see some of the children they're helping out. Unfortunately, due to COVID, the event was canceled this year.
"There were all kinds of other businesses and companies that were selling food, doing raffles, or that unity that's bringing together people, that's missing this year," Burtscher said. "That's unfortunate because one of the things that was so neat about this event was how it just brought everyone together for such a worthy cause."
Every year the district has new and returning participants. One of the new participants this year that's shaving her head for the cause is senior Adrienne Zylko. She has always wanted to shave her head but was scared. However, this year she was excited to finally brave the shave.
"I have seen posts about the district event throughout the years and have always been interested in getting involved," Zylko said. "This is just the year that I finally committed to the idea."
For Zylko, having the ability to stand with these children and show her support for them makes shaving her head all worth it.
"No one wants to lose their hair, but thinking about what middle school and high school girls would go through is heartbreaking," Zylko said. "I am doing this by choice and my hair will grow back quickly, but I want to stand with them and show that hair doesn't make you pretty, it is just a small part of who you are."
For everyone partaking in the event, there is one common consensus that shaving your head is definitely worthwhile.
"Seeing smiles on the kids faces," Burtscher said, "just to see the smiles on their faces, to see that positive energy at the event, and just knowing that this money is going to such a worthwhile cause, that makes it all worth it."