Arguably the Best
Speech and Debate qualifies students to states, nationals
Even with the major changes and challenges this season, the Hoover Speech and Debate team has 31 students qualifying for states this year. These changes due to COVID-19 have radically changed the way things operate during tournaments, but the team has remained successful throughout the season. Instead of traveling to other schools to compete, every tournament was held virtually at Hoover on Saturdays. Each individual or team goes into a classroom and performs their category.
"States is going to be the same as every other tournament this season," senior Mary Kreidler said. She serves as the Novice Director of the team and is a three-time state qualifier. "We are going to log on to our devices and put them on the tripods and do our thing."
States is a massive tournament that spans two days and pits teams from all over the state against each other. Beginning the first weekend of March, each participant can compete in up to six or seven rounds if they make it all the way to finals. Every category will then receive a state champion after all of the rounds and the judges have made their decision. This is staying true even with the tournament being completely virtual and at the high school.
"It also means that students are missing out on all of the social aspects of the state tournament, which is a huge part of the experience," Speech and Debate head coach Missy Stertzbach said.
Unfortunately, all of the social interactions that came with tournaments have not been held up like the rules and procedures of years past. Junior Mady Beckel, a two-time state qualifier, was disappointed with going virtual, along with several other members of her team.
"I personally wasn't overly fond of this season being virtual, but I definitely understand that it was for the best," she said. "Doing this activity virtually has been a challenge for sure, but it's made my appreciation for the activity grow so much. Even though we couldn't attend normal tournaments this year, we were still able to come into the school and spend it with just our team which everyone was very grateful for."
Although the team has not been traveling, staying home at Hoover has increased their bonds and support of each other during the tournaments more than usual. However, states being completely virtual has not stopped the competitive spirit between schools.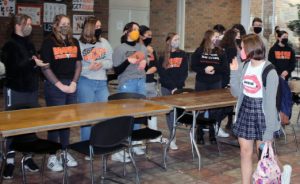 "We have seven districts in Ohio, with around 48 schools competing," Kreidler said. "At states, you have thousands of competitors from all around the state."
This year, the team had 31 students qualify for states in many different categories. The team also had several national tournament qualifiers including Mady Beckel in International Extemporaneous Speaking, Claire Kormanac and Justin Airhart in Policy Debate, Mary Kreidler as the first alternate in Dramatic Interpretation, and Joelle Morgan and Kyle Fitzpatrick as second alternates for the National tournament in Duo Interpretation. Nationals are the highest level of competition and qualifiers compete against students from around the country.
In years past, several students have made it to the final round in states, and in the last decade there have been two champions from Hoover. Stertzbach has high expectations for the team this year as well.
"We are confident that this year we will have students who will reach the highest level of competition at the state tournament," Stertzbach said.
Beckel has also reached the national tournament in her category of International Extemporaneous Speaking. She has qualified for the national tournament before, so she has become acquainted to how it runs. However, like all of the other tournaments this year, it has become completely virtual.
"Nationals is a tournament typically held at the end of June where the top competitors in the country get to compete with each other," she said. "It's just like states, but on a national level. This year it will be virtual, like all the other tournaments. Nonetheless, it should be fun."
Senior Sophia Ploucha is state runner-up in Lincoln-Douglas Debate. She spoke about what the years on the team mean to her.
"Although it was difficult to have my last season be virtual, I will always be extremely grateful for the experiences I've had on the Speech and Debate team," she said.
Overall, Hoover had many quarter-finalists; in addition, Kreidler, sophomore Emma Curd, and freshman Taylin Ruhe were semi-finalists. Sophomore Sabrina Estevez was a state finalist in Congressional Debate as well as a national qualifier. As a team, Speech and Debate placed eighth out of 88 and named a School of Excellence in Interp.