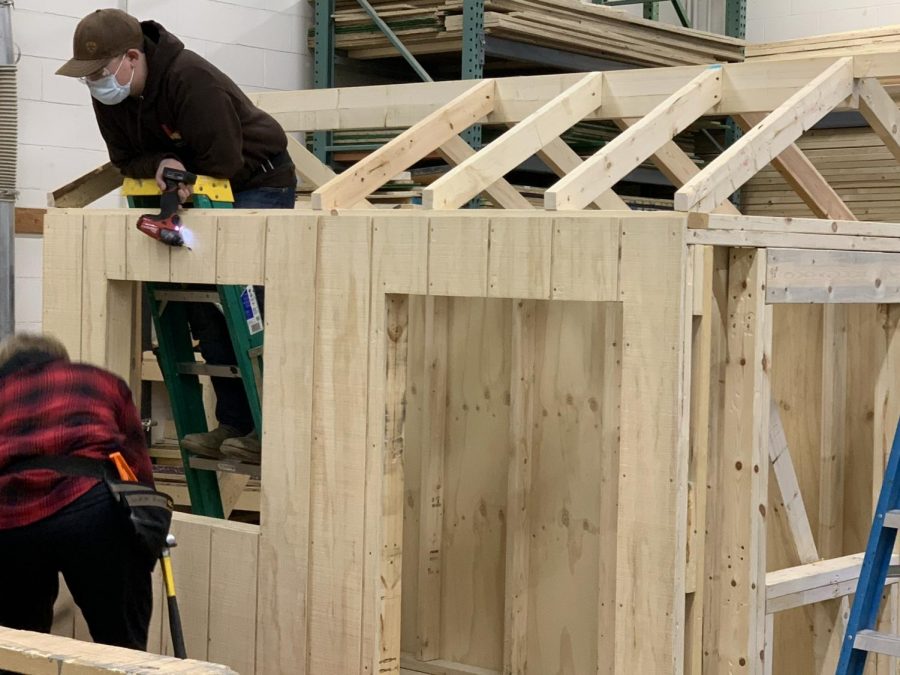 Mr. Todd Cognion\used with permission
Hoover has a wide range of different career tech programs such as med-tech, bio-med, culinary arts, and many more — and a favorite among the different classes is Construction Technology, taught by Mr. Todd Cognion.
Freshman Lilly Wolfe, a Construction I student, spoke about this real-world application program.
"This [class] is different because it is more hands-on," she said. "I go in and have something different
to learn everyday. We are learning about tools and how to use them [and] are currently working on our first project, which is a toolbox."
The construction program is very successful, but to have a successful career tech program, it needs a great teacher to lead the class. Wolfe said Cognion is that teacher.
"Mr. Cognion is nice and very patient, and keeps everyone safe," she said. "He gives us lots of time to learn the tools and other things. I think it's nice to not feel rushed and to actually understand it."
Junior Zoe Eagon, who is in the construction capstone program [four years in the construction program], said the course is not an average sit-down class.
"Since I signed up to take construction for a jumpstart class in eighth grade, my skill and knowledge have expanded dramatically," she said. "At first, we started out by learning how to use the tool properly and safely. Since then, we have been able to complete many more advanced projects that help to improve the school and community — such as building out the studio for the podcast room, building a shed, helping out with the culinary arts program, and many more."
Like Wolfe, Eagon appreciates and respects the energy and expertise Cognion brings to the program.
"He is very understanding," she said. "He is very knowledgeable and good at what he does, and as our experience in the class advances, projects become more and more challenging. As we progress along with our projects, we learn new things everyday."
In Level I, students learn the basics of construction, like safety, construction math, hand and power tools, and blueprint reading. Other life skills learned include communication, teamwork, responsibility, how to ask proper questions and critical thinking skills. Cognion also said there is potential for accreditation in the program as well.
"Students can go to various areas after completing the construction program," he said. "Any of the trades is an obvious choice [plumbing, electrical, welding, iron workers, carpenters, masonry, etc.]. What most students do not realize is that the second year class [Plan Reading] is a three- credit hour college course that can be used in all Ohio colleges for credit for any Plan Reading type of class. The other area that students go to is the Armed Services. Many Armed Services are very interested in students that complete the construction program because of the ability of students to problem solve, teamwork and ability to follow basic directions to complete a project."
Career tech principal Mr. Robert White detailed the importance of such programs for students.
"A successful career tech program provides valuable experiences for students," he said. "Beyond this, a successful career tech program gives students transferable skills and knowledge that will help them in the next phase of their life.  A successful career tech program provides connections to professionals, companies, and/or organizations in the related field of study.  Finally, a successful career tech program has a knowledgeable teacher who works to build positive relationships with students and is passionate about his or her content area."
Regarding the construction program, White is excited to see the future of the construction program at Hoover.
"Students are building more elaborate structures including larger sheds and children's outdoor playhouses," he said. "And now, they are planning to begin production on supplying a local business with needed supplies to successfully run their business.  New and innovative tools have been added to the program.  The layout of the lab [shop] area has changed several times over the last few years.  I see the program continuing to evolve, but I do not want to put our creativity in a box, so I do not know exactly what this evolution may look like.  I see them taking on new tasks and building new structures."
While the program will continue to evolve, it also has undergone many changes since Cognion took the program over.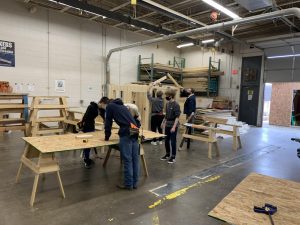 "The program names are the same but the direction and projects are completely different," Cognion said. "Students are learning by applying skills like math and English into real world activities. The Construction Program is now an accredited program, which means students can earn 12 points towards graduation [four
courses, three points each]. The Carpenters Union [Career Connections] along with ODE is the certifying agency for the accreditation of students. Students now are able to use many tools in a safe manner as well as look at blueprints, and be able to create a material list and develop a cost for the material as well as communicate with a client for the project. All of these are real-world skills that colleges and employers are looking at for graduating students."
Regardless of one's plans after graduation, a career tech class will only help them in their future.
"Career Technical Education provides students with advanced knowledge and skills for a particular career field," White said. "We have many Hoover students who come from a career tech program and go on to college.  In fact, we have many more Hoover career tech students who go to college than do not.  We often hear from Hoover career tech graduates who are in college and report that they are so far ahead of their peers."
White credits many people in making such successful programs possible.
"I attribute this to our teachers and the technology they have at their disposal," he said. "Our teachers are caring and knowledgeable and equip their classrooms with innovative technology.  In addition, we live in a community that values education and supports our schools.  This includes career tech programming.  I am so grateful for the opportunities career tech students have at Hoover High School."
Cognion offered a summary of what potential students should expect when enrolling in the construction program.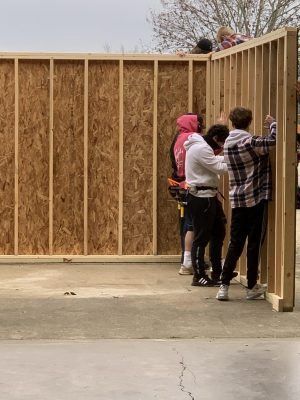 "Students should be prepared to be challenged on a daily basis," he said. "These challenges can be in the form of hands-on applications or the mental aspect of applying concepts for problem solving and team building issues.  The class is very involved and cannot be approached with a lazy-type attitude, but rather a want to learn-and-conquer-type attitude.  Even though this is a hands-on type of class, students are still required to meet all the requirements for Career Connections in order to receive credit towards graduation."
The construction program is an investment on the part of students.
"Just showing up and putting in your time does not mean a student will get the credits," Cognion said. "They must not just pass the class but also complete all the projects and writing assignments to receive proper credit for all four classes. Prior knowledge about any construction aspect is not necessary. Any student willing to learn and follow basic directions can be successful in the Construction Program."
For those planning to continue working in the field after graduation, the construction trade is a rewarding career.
"If a student is looking at entering the trades right out of high school, most trades are paying around $18.00 per hour to start out, with the employer paying for training and books," Cognion said. "The pay can be different for different areas of the state, or even state to state.  Entering the trades also means your training applies towards a [two-year] college degree."
This program, like most career tech courses, helps prepare students for life and schooling after high school.
"After graduating from Hoover, I plan to continue my career in construction focusing on an apprenticeship program," Eagon said. "This class has made me realize that you don't always have to go down the same path as others."