Niceness is Priceless
Orchard Hill student raises money for a Cuddle Cot
If you put your mind to something, anything is possible. Orchard Hill's fourth-grader Prue Baglia proved this to be true. She started her very own fundraiser to raise money for a cause near and dear to her heart.
"My mom is a labor and delivery nurse and I would always ask her to tell me stories about the baby she had that night, and if it was a boy or girl and their name. She then introduced me to the "Be Like the Willow" movement, and I really liked doing the random acts of kindness in October, and decided this year I wanted to do more."
Baglia decided she wanted to raise money to donate a Cuddle Cot to a hospital in need. In order to raise all the money, she created her own merchandise with Hub Victor.
"The Be Like the Willow movement has printables that you can pass out when doing your daily acts of kindness. I found one of these printables with the slogan "niceness is priceless." I thought it was a really good message, so I decided to make merch with it."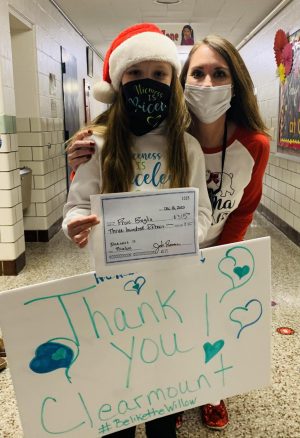 Senior Julie Dunlap's Aunt started the Be Like the Willow movement that inspired Prue to start her fundraiser.
"The Be Like the Willow movement was started by my aunt Leslie a few years ago whenever she had a stillborn with my cousin Willow. The movement was intended to spread positivity and kindness among the community, and raise awareness for infant loss." Dunlap said.
Baglia was able to start her fundraiser because of movements like Ashley's Embrace and Be Like the Willow who both raise awareness of infant loss from their own personal experiences.
Baglia had many options for sale including T-shirts, gaiters, hoodies, cinch sacks, and loop masks that all had her slogan on them. Baglia was able to reach her goal of 3,000 dollars from generous donations from the community, and purchases of her "merch."
"I want to thank the Be Like the Willow movement, Ashley's Embrace, the North Canton City Schools district, and friends and family for supporting me. I also want to thank Hub Victor for making my merch and supporting me too."
Many people throughout the community are stunned by Baglia's impact she is making at such a young age. Her determination is inspiring to others.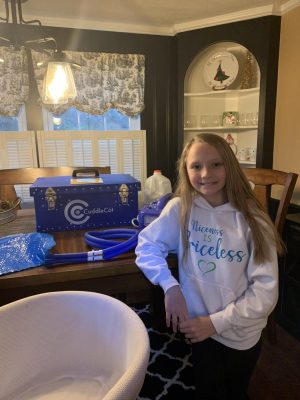 "The fact that Prue is raising money for a cause that's not only near and dear to my heart, but also near and dear to lots of people's hearts all across the world is actually amazing. The fact that somebody so young can look at a situation and say you know what I can make a difference is amazing and I applaud that." Dunlap said.
The cuddle cot is in the process of being donated to a hospital in need. However, Baglia is not stopping here. Donations are still being excepted in hopes to purchase and donate yet another cuddle cot. Baglia truly proved a little voice can make a big difference.