A Happy New Year
We finally made it through 2020. What a year. We made it through the good, the bad, and the ugly. COVID took over all of our lives in different ways.
Watching loved ones suffer, or being away from people. Not being able to go to public places with friends like in the past year.
Now, we are in 2021. Around this time last year, we were all hopeful and excited for the year to come. Starting off this year is a little different.
Instead of being excited, we are dreading what will continue to happen with COVID. Although this is the immediate response, we should be happy and looking forward to 2021.
In a way, we are already further ahead than we were last year. Last year, bad things were thrown at us left and right, and we had no idea what to do with them. We hadn't expected anything bad to happen. 2020 was supposed to be an amazing year, but, in fact, it wasn't.
Hopefully COVID-19 will end this year with the vaccine. Focusing on the positives to come this year will help 2021 to be better than 2020.
Yes, we are still in the middle of this pandemic. Which means we need to continue to keep each other safe by wearing masks and staying distanced. By doing this, we should be able to kick this virus out of our lives. Maybe even this year!
When we look towards the future, it can stress us out. Where will I be this year? What will I do to better myself? Will I be where I want to be? Although these questions are valid, they will make us focus on things that aren't as relevant.
Taking each day as it comes can make life much easier and less stressful. When waking up in the morning, before you get out of bed, sit there and think about something that will be happening that day that you will be looking forward to.
If you can't think of anything, that's alright. Sometimes everything going according to plan can block different, and better, outcomes to situations.
When moving through the year, look for the good things in the day, rather than focusing on the bad things. Yes, most of our brains start by thinking about what bad things happen, which can bring the entire mood down.
If this happens, try really hard to go back through the day and pick out the things that made you smile. Like your best friend making you laugh. Or playing a song mostly correct the whole time. Things like that are positives that could happen.
None of us really know what 2021 has in store for us. That can be a little scary, or overwhelming. Focusing on the positives can make this year a great one. So, with this positive energy, let's say it loud and clear: Happy New Year!
About the Writer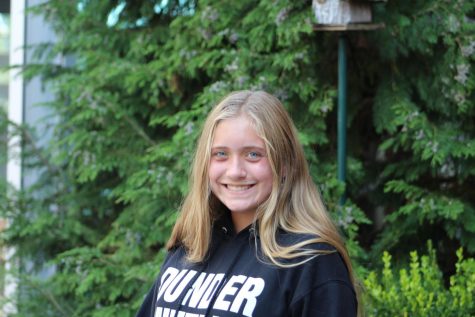 Madeline Griffith, Staff Writer
I'm a freshman at Hoover. I absolutely love to write and I'm glad I'm a part of Newspaper this year.