Flashbulb Moment
Generations: Throughout history, we have had plenty of "where were you?" moments in life.
For the Traditionalist generation, one might ask where were one was when America's involvement with World War II began with the bombing of Pearl Harbor? For Baby Boomers, where were they when four musicians from Liverpool, England who just so happened to all be in a band called The Beatles arrived in America for the first time? Generation X is asked where they were when then-President Ronald Reagan announced "Mr. Gorbachev, tear down this wall!" And many people wonder where Millennials were when two planes struck the Twin Towers in New York City one frightful morning in September 2001.
So many generations have a lot of stories to tell about where they were when a life-changing event happened.
But for we, members of Generation Z, this whole year could be a "where were you?" story. Where were you when we lost one of the world's greatest athletes, his daughter, and seven others in a helicopter crash? Where were you when COVID-19 stopped the world as you know it? And where were you when George Floyd died due to a Minneapolis police officer's right knee on the back of his neck?
However, with all of that going on and more throughout the course of 2020, there was one day where three significant events happened — all in less than 24 hours.
It started that morning, when former Vice President Joe Biden was named the 46th President of the United States. President Biden ran for the presidency twice in 1992 and in 2008 before agreeing to be President Barack Obama's running mate. My story was quite simple really. I go into the shower and no one knows the outcome of the 2020 election; I come out of the shower and we have a new President-elect. The news truly came out of nowhere. The election also ushered in the first woman and woman of color to hold the Office of Vice President. Vice President Kamala Harris will now be known as a trailblazer for women who desire to find themselves at 1600 Pennsylvania Avenue someday.
Then that afternoon and evening, college football had themselves a Saturday to remember. It started out with 13th-ranked Indiana beating 23rd-ranked Michigan handily 38-21, as the Hoosiers beat the Wolverines for the first time since 1987. Next, one of the biggest rivalries in college football took place as Number 8 Florida played Number 5 Georgia, as the Gators beat their arch-rivals 44-28 ending the Bulldogs' playoff hopes. Then, it was arguably the game of the year as the Number 1 team in America, Clemson, headed to South Bend, Indiana to take on 4th-ranked Notre Dame. The Tigers came into the game without their Heisman hopeful quarterback Trevor Lawrence, as he tested positive for COVID-19. So with Lawrence's "Sunshine" hairdo rocking an N-95 mask on the Clemson sideline, Notre Dame got a little luck from the Irish as they pulled off a 47-40 upset in overtime as over 11,000 fans stormed the field at Notre Dame Stadium.
To cap off this historic day, stand-up comedian Dave Chappelle hosted Saturday Night Live with musical guest Foo Fighters. Chappelle, in his 16-minute-long opening monologue, made remarks about the divide in America.
"Here's the difference between me and you, You guys hate each other for that. And I don't hate anybody. I just hate that feeling. That's what I fight through. That's what I suggest you fight through." During the election, through social media and just talking with some of my closest friends, I felt something that I couldn't put my finger on.
Chappelle explained exactly what I was feeling during that time frame. After my realization, I remembered a quote that SNL cast member Kenan Thompson gave Jimmy Fallon from an interview of his on "The Tonight Show" the day before.
"The guy is such a prolific speaker. He speaks from the heart and a brilliant mind." Fallon also mentioned that Chapelle reminds him of a "wordsmith" and a "poet." The last time Chapelle hosted the show was four years ago, which amazingly was the first episode after President Donald Trump was named the 45th President in 2016. He explained that the feeling of fear that some people had then, others are feeling now.
"I would employ everybody who's celebrating today to remember, it's good to be a humble winner. Remember when I was here four years ago. Remember that half the country right now still feels that way. Please remember that."
There is no doubt that this was a historic episode for a historic institution in broadcasting.
So where were you when Joe Biden won the presidency and Kamala Harris made history? Where were you when the number one team in the nation met defeat at the hands of the Fighting Irish? Where were you when the most important show of Saturday Night Live hit the airwaves? This will be a 24-hour span that many Americans will soon remember for years to come.
From what was happening in the world of politics, sports, and entertainment, Saturday, Nov. 7, 2020, will be a day that will go down in history.
For the generation that will be the one to change the world, a lot of those "flashbulb moment" questions will be asked from this day.
Get ready y'all, because those questions are gonna come.
About the Writer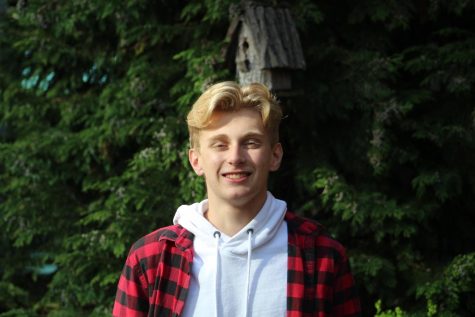 Matt Kiraly, Chief Sports Editor





Hey! My name is Matt Kiraly and I'm the co-chief sports editor for The Viking Views. I'm also a part of NCTV and am a P.A. Announcer for a bunch...