Welcome Back
Local Buisnesses talk about operatiing during COVID-19
With small businesses all around North Canton, there have always been fun things to do. However, in a time of curbside pickup and mask orders, many businesses have been deeply affected by the virus known as COVID-19. Restaurants, stores and doctors' offices have had to make major changes to the way they operate. Many businesses have had to temporarily shut down. While Amazon and other large businesses with a strong online presence have done very well, using shipping and curbside pickup, many smaller companies have been struggling to avoid bankruptcy.
Sapphire City Board Game Parlor is a place to go spend time with friends and find fun new activities. The owner of the shop, Mr. James Parson, talked about the issues he's faced during a time of social distancing and sanitization.
"The issue is we're not a regular food establishment or entertainment venue — the point of board games is to sit close together, sometimes with strangers, all touching and interacting with the same things," Parson said. "Once you're done, you put the game back on the shelf to be picked up by a new group. The same board game can sometimes be played five or ten times in a day; that means in a given day anywhere from 20 to 40 different people are interacting with the same object."
Mr. Mark Palombo of Palombo's Italian Restaurant, housed on Portage Street since 1979, was shocked to hear Governor Mike DeWine's announcements in March relating to restrictions around restaurants.
"I don't think anyone expected governor DeWine to take the extreme measure he did which of course included the closing of indoor dining at restaurants and bars effective the very next day," Palombo said. "We were shocked, to put it mildly.  As we began to contemplate this new reality, my brother, Rick Palombo, looked at me and said, 'We have to reorient the business and do carry-out.'  Our business has been primarily a full service in-dining restaurant with a respectable but small bit of carry-out. To reorient the business to just carry out became a trial by fire."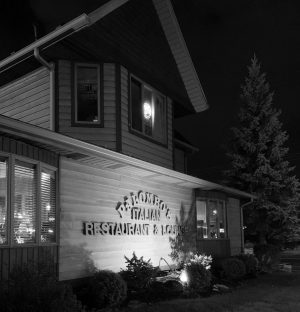 However, not every business had the luxury of staying open. Parson said that his shop was required to close fully for part of the pandemic, and is currently not fully functioning. They are currently open to rent and sell board games, but are waiting to open their doors to their game area.
"We didn't feel it was responsible to push that risk onto other people right now, even if it was in our financial best interest to do so," Parson said.
Artist's Gallery Yarn is a small shop located on Main Street, selling everything from cashmere yarn to knitting patterns. Mrs. Carol Markley has been the proud owner for about 25 years. The store had previously been holding knitting classes and had crafting groups come in and talk while they worked on their projects. All of that had to come to an end in March.
"The girl that was doing the [knitting] classes totally shut that down, so she just started here probably last month, maybe doing one and then maybe adding another, so they're still pretty slim, the classes. She has a medical issue, so she has to be careful," Markley said. "She had pretty regular classes, a couple of times a week, she had them on Mondays and some on Wednesdays. I had a Wednesday night group that came in, and we don't do that anymore."
Businesses have been very grateful to their loyal customers for helping in such a difficult time.
"We succeeded only by the dedication, goodwill and patience of our employees and our patrons," Palombo said. "I don't think I can stress enough how thankful I am to our employees who really stepped up to keep the business going and the loyalty or our customers."
While the economy is slowly reopening, some businesses are still struggling. However, many owners have hope that they will be back on track as preventative measures against the virus advance.
"I'd say our business is definitely limping, but sustainable for now, and I believe we'll see it through to the end of the pandemic," Parson said.
Markley is optimistic about how her company has bounced back from being closed.
"Once we reopened then in May, it seemed like we did pretty good because everyone had been using up their stash, and they were glad to get out and get some new yarn, and we've done pretty good," she said.
She additionally remarked on the hope that more young people will start showing interest in crafting, discussing the benefits of knitting and crocheting, explaining that it's simply a good hobby that you can do with friends, while watching television or just to keep one's hands busy. Markley also commented on the rewarding sense that one gets after completing a project, especially when it's for someone else. Her shop collects and donates projects for many charities, including such projects as doll clothes for children in the hospital.
The hope of business owners in our area is simply to return to normal and serve North Canton as soon as possible. Parson is hopeful to reopen his business soon.
"We've been a fun hangout for students at Hoover High School in the past, and we're really sorry we can't do that right now," he said. "We appreciate the thoughts and look forward to hosting Vikings again in the future."
About the Contributors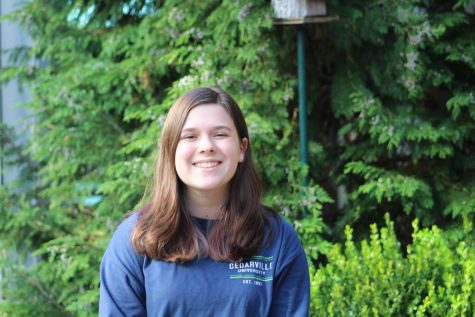 AnnaSophia Bates, Copy Editor
Hi, I'm AnnaSophia! I love meeting new people, reading, and writing! For my first year on the Viking Views, I am a copy editor! I'm so excited to start...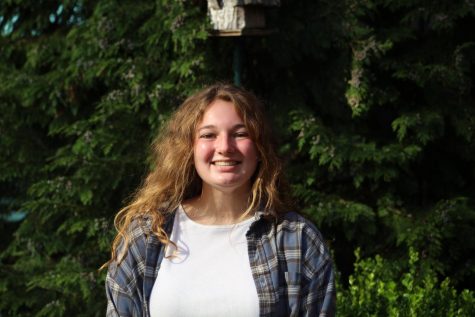 Mary Basiakos, Editor In-Chief
I've been on The Viking Views staff for three years. My first two years I was on focus and then chief of focus, and I am now EIC. I design the cover...