Preparing for the Frontline
Med Tech navigates class with new COVID-19 guidelines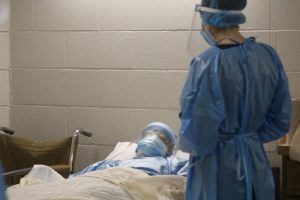 For students in the Medical Technology [Med Tech] program at Hoover, the term "real-world application" is taken seriously — and literally.
The Career Tech program, taught by Mrs. Angela Combs, is a three-tiered program which covers all aspects of the medical field, from Health Science and Technology [Med Tech I] to Principles of Allied Health [Med Tech II] to Medical Terminology, Patient-Centered Care and Health Science Capstone [Med Tech III]. According to the course handbook, students receive certification in Bloodborne Pathogens, Healthcare Provider Cardiopulmonary Resuscitation [CPR] and First Aid and "successful completion of the state exam earns the students the title of STNA and places them on the Nurse Aide Registry for the State of Ohio."
With COVID-19 changing everything about the world, the Med Tech program is no exception. Combs, who also works in the field, spoke about her experience during the pandemic.
"Health care is desperate for providers," she said. "I am personally working in two hospitals on the side, and I can say each and everyday we are short-handed and dying waiting on help to come."
Combs' students will take this experience to the frontlines.
"[They] all are the future and we need [them]," she said. "We need boots-on-the-ground providers. I can think of no one other than my students I want by my side fighting this pandemic with me."
Senior and Med Tech III student Grace Kovach knew from the beginning the benefits of taking this class regarding her career path.
"I joined Med Tech because I want to work in the medical field, and this class will help prepare me to start my career path early," she said.
Due to the recent outbreak of the Coronavirus, Med Tech III is trying to navigate their way through the new learning environment. Unable to have a clinical setting in a nursing home, they have to use their problem-solving and communication skills to navigate clinicals throughout the classroom. Senior and Med Tech III student Ava Tarzan sees this as critical preparation for her career.
"We are in the middle of a pandemic which is something that has never happened before," she said. "It's a lot different than what it would normally be. We have to take a lot more steps when preparing to work with each other but it teaches us to be more cautious."
Combs spoke regarding the program changes because of the pandemic.
"All roads lead to COVID," she said. "This year, we are unable to be physically close to learn physical and nursing healthcare skills."
Personal protective equipment [PPE] is used every day on the frontlines to protect healthcare providers and others while providing care. PPE helps protect from potentially infectious patients and materials, and it is gear the Med Tech program uses as well — including gowns, gloves, face shields, hairnets and masks. Combs is doing everything she can to ensure her students are successful during this time.
"[I do this] by ensuring they have the supplies they need to be safe, educating them how to be safe and be hands on, and to reassure them every day they will be successful as long as they don't give up," she said. "It's hard right now, but we can do this."
While the PPE is necessary, it does become challenging at times.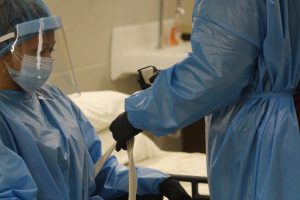 "We are covered literally head to toe," Combs said. "I was nervous about it at first, but in week four [at time of interview] being in full PPE is literally second nature to everyone. I could not be more proud of my students for overcoming the discomfort and inconvenience for the sake of learning and being amazing health care providers."
She also has them self- and peer-critique.
"I ask them everyday to set a goal and a path for achievement and I work with them, alongside cheerleading to ensure it happens," Combs said.
Senior and Med Tech III student Brooke Meeks understands while the benefits far outweigh the drawbacks, PPE can be uncomfortable.
"This year is extremely different from the past years, the reason being COVID," she said. "All procedures and skills are in full PPE, and no exceptions. It is definitely a lot when doing labs. You sweat through your clothes and can hardly breathe, but it's for the better and keeps us all safe."
Kovach also sees the necessity.
"[PPE] is hot, [makes] it hard to see, and it can be claustrophobic," she said. "We have [to do it] because this is what we signed up for. People do this every day for hours and hours, and they don't say one word about it. They have a job to get done — and so do we. We need PPE to keep us from harm; without it, who knows where we would be."
Despite the obstacles brought forth by COVID-19, the Med Tech program is doing everything they can to prepare for the new healthcare norm, according to senior and Med Tech III student Arabella Kell.
"Med Tech taught me the struggles in the health facilities and the problems we are experiencing today," she said. "I joined to help others; I enjoy the family-like atmosphere and the in-depth style of teaching. This year has definitely been different because we are doing everything though this pandemic — which is really difficult."
Even with the new guidelines, the end result is positive.
"PPE precautions make learning very difficult, [but] I feel that it is getting us ready for the worst scenarios," Kell said. "This class means a lot to me because I have put a lot of work in it all through my career in high school, and [I] worked really hard in this class. I love all the friendships I have made. Hard work pays off."
Meeks agrees.
"I joined Med Tech because I have always had a passion to work in the medical field, but also just helping others," she said. "This class means the future to me, the people who will be the future and where life takes us. [The] advice getting me through this year would never give up and keep chasing your dreams."
It is real yet positive attitudes as these that make Med Tech a unique Career Tech program, especially amidst a global pandemic.
"This class means to me the opportunity to educate young people in healthcare," Combs said. "It means I have the chance to tell [them] about mistakes I have made, mistakes I have seen, and educate on how to be better than I ever will be. It means the chance to train people to provide care with not only their hands, minds, and bodies, but to provide care from their hearts — to be compassionate, caring, loving care givers. My students are such amazing young people, and they have such bright futures. I really hope fear of illness does not change anyone's path. I know my students are smart and hard-working; they are the best, and now I get to teach them how to love through care-giving."