NC Farmers' Market
NC Farmers' Market offers much for the community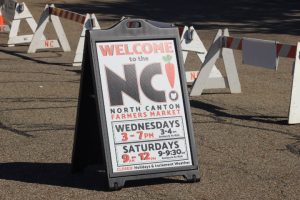 There is a new attraction bringing the North Canton community together.
The North Canton Farmers' Market, occupying the former KMart lot, is a new attraction allowing for local vendors and farmers to sell to the community twice per week.
The marketplace, which opened in June of 2020, offers a wide variety of fresh produce, baked products and other locally sourced goods to residents of North Canton.
Mayor Steve Wilder helped play a major role in starting up the farmers' market this year, working extremely closely with the market organizers Jena and Ryan Grosschmidt.
"With us purchasing the KMart property," Wilder said, "the city administrator and I, we discussed it, and we thought rather than have that just be vacant property with the parking lot open, we met with the Grosschmidt's and said would this be a venue for you."
After getting in contact with the Grosschmidts about new plans for their farmers' market, they quickly went to work.
"I just asked them [the Grosschmidts] to make sure that they were cleared with the Stark County Health Department, which they were," Wilder said. "And that they could function under the guidelines of Responsible RestartOhio."
Responsible RestartOhio is a set of  COVID-19 safety guidelines set in place by the Ohio Department of Health for consumer, retail, services and entertainment.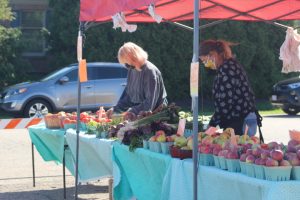 With COVID-19 regulations in place, the farmers' market was fully established.
Mayor Wilder sees the farmers' market as a huge benefit to local businesses and the community.
"To date, about 1,650 people per week are spending an average of over 24 dollars," Wilder said. "And that's roughly $39,600 each week in sales and about $575,000 total."
Alongside the groundbreaking sales, the farmers' market has also been extremely accessible to the community.
"Forty-six percent of shoppers travel less than five minutes to get to the market, with seventy-three percent living less than ten minutes away," Wilder said.
The mayor worked closely with Ryan and Jena Grosschmidt in order to bring this farmers' market to its current success.
Ryan Grosschmidt, husband of co-coordinator Jena Grosschmidt, helped bring the farmers' market to life.
"Me and my wife did the Plain Township Farmers' Market for four years," Grosschmidt said. "And they decided to cancel due to safety concerns with COVID."
After the cancellation of the Plain Township farmers' market, the Grosschmidts began to pursue the farmers' market at the KMart lot.
"We were originally going to do a drive-thru [farmers' market] around the KMart building," he said. "We approached the city and said we feel that the need is greater than that."
Going forward, the farmers' market started up and has continued to bring the community together and show great success.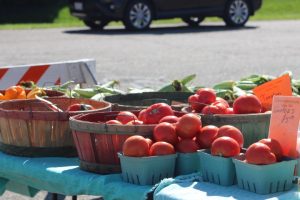 "A lot of our vendors have shown pride in our market because of the consumer base here," Grosschmidt said. "North Canton really is a great community."
The farmers' market has bolstered many local businesses, one of these businesses is the Irish Lass Bakery, run by Becky Violand.
Becky Violand started baking after retirement and has been selling her homemade baked goods at farmers' markets for six years.
"I bake at home, I do it all by myself," Violand said. "Everything is old recipes, small-batch, and made by hand."
Violand has been working hard amidst this pandemic in order to make the best of the farmers' market.
"I enjoy meeting new people and making new friends [at the market,]" she said.
Alongside Violand, many other vendors sell their homemade goods including Mike and Hannah Moyer, who run their own coffee business, M&H Beans.
Mike Moyer is a veteran who has been roasting homemade fresh coffee for years.
"We have been roasting coffee for about a year and a half professionally," Moyer said.
This has been the first year for the company at farmers' markets and so far it has acted as a positive beginning.
"We have had a great response," Moyer said. "One of the biggest compliments we receive is repeat customers and that shows us that we are going the right way."
The farmers' market has been a great way for M&H Beans to reach out to the community.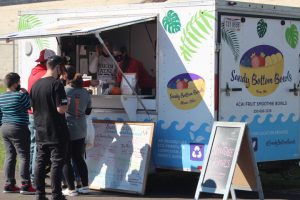 "We love interacting with people in the community," he said. "It's just a fun time overall."
All in all, the new farmers' market has acted as a significant way for small businesses to recover from the pandemic and for the community to come together.
"I think after we started you just feel such a connection, to the vendors and the community and participants who come in and they show their appreciation," Grosschmidt said. "And you know you're doing something good for your community, and it's just kind of contagious."