After the Quarantine
Class of 2020 begins the next chapter amidst COVID-19
Only rading periods in, schools were forced to close for the remainder of the school year due to the global COVID-19 pandemic. Unfortunately, this meant the Class of 2020 would be missing out on the rest of their typical senior year activities. With the pandemic still going on, one question remains: Where are they now?
Class of 2020 alumnus Joe Bunnenberg is currently a freshman at The Ohio State University, where he is living on campus; however, he is taking classes remotely.
"Getting used to how everything is organized, where you turn stuff in, how you turn stuff in and keeping track of assignments [is the most challenging part]," he said. "I wouldn't say it's harder necessarily, but it's a lot different because you have to really know your way around all the websites."
While it may be different than what he expected, he is still looking forward to starting a new chapter of his life while away at college.
"[I'm looking forward to] growing as a person, and in the next couple of years, comparing myself to how I was in high school," he said. "I'll have hopefully gotten better as a person and academically."
In high school, many students often consider grades to be an important thing, but he feels that they are even more important now, making them something he is nervous about.
"I feel like grades just feel so much more final," he said. "Every assignment you turn in, every quiz or exam you take just feels like there is a lot more pressure on you."
He feels that being in college, especially during the pandemic, gives him a wider perspective on what he is doing.
"You better understand the importance of everything you're doing, and you're able to fit that into the big picture," he said.
Class of 2020 alumna Bella Hayward is currently attending Capital University as a psychology major. On-campus learning was postponed for her, so she began her first semester from her home in North Canton.
"The most challenging part of being at home was not being able to meet teachers in person and have the in-class guidance," she said.
Not only does being at home mean online classes, but other activities have also had to move online.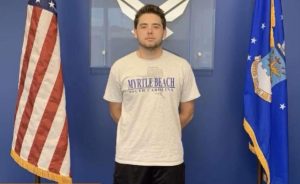 "It has also been super interesting to see the dynamic of choir rehearsal, as I am in the Chapel Choir at Capital," she said. "The entire rehearsal is spent with a muted microphone and only listening to myself and the piano on the call."
Though on-campus living was postponed for her, Capital University has since reopened its doors to student dormitories.
"I'm looking forward to meeting new people and truly figuring out my career path for the future," she said.
Upon graduating, not every student chooses to go to college. Class of 2020 alumnus Nick Pennel decided on military service.
"I made the decision to go into the military because I've always wanted to serve my country," he said. "I [also] like to travel, so I get to see more of the world before I start my next life chapter in the same spot."
While going into the military may be a scary thing, he is still excited for what is ahead of him in the coming years.
"I am most looking forward to meeting a bunch of new people who had to make the same decision as me [and are] making the same sacrifices that come with it," he said.
From the many possible branches of the military he could choose, he decided to go into the U.S. Air Force.
"I will be working on nuclear weapons or space missiles, so that's what I'm excited about," he said. "[I will be] working on a skill I can only get from the military and getting a good job when my time is up."
Living through the pandemic put many things on hold for the class of 2020, but many graduates can agree that even in these difficult times, there were good things that came from it.
"The pandemic gave me some more time to think about what I want to do with my move-in being postponed, but I'm also grateful for the extra time I had with friends and family," Hayward said.