Inside Hurricane Laura
August storm devastates southern United States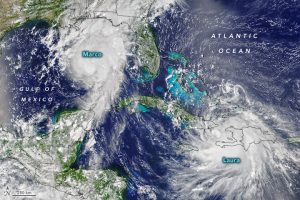 Hurricane Laura made landfall in the early morning of Aug. 27, 2020. The Category Four storm tore through the Gulf of Mexico and eventually struck in southern Louisiana. Roughly a week before this, residents of the area were preparing. Ms. Elender Bourque was one who started taking precautions; she lives in Iowa, Louisiana, which is about an hour inland from the Gulf of Mexico.
In an interview with Bourque, she explained that to prepare for the violent storm, she stocked up on fuel, water and non-perishable goods. She also made sure that any loose objects outside were packed up.
"Preparing for a storm is a method of being practical and trying to think about all situations that may occur and prepare for that outcome," she said.
The storm lasted nearly seven hours and caused immense damage throughout the state of Louisiana. The 100-mph winds decimated many people's homes — including Bourque's.
"The experience of the storm was not really terrible until the roof was ripped off and it began to rain inside our home," she said.
As with this force of nature, some buildings remained nearly untouched, while others were left totally devastated.
"It is hard to understand how some places were totally destroyed and others were left intact," Bourque said.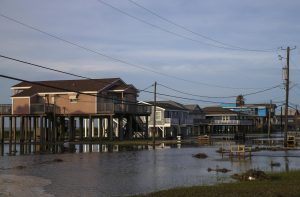 There have been many hurricanes in her area before, but this storm was unlike any other she has experienced.
"This one was definitely worse than any other one we have been through," she said. "[It was] a huge mess with a lot of destruction. It looked like a bomb went off and leveled the area."
Cleaning up the destructed area takes many people and lots of help, considering how brutal the storm was.
"Many people and organizations were on-site immediately helping," Bourque said.
The process to rebuild will be slow, as they have very limited resources and workers given how extensive the storm was to the area. Bourque mentioned everyone in the community helps clean up, but that storms can bring out the best and worst in people.
"You don't really have a sense of time at first," she said. "Life is not normal for a good while."
Physically, the storm takes a lot of effort to clean up, but mentally the storm takes an even bigger effort to recover from.
"You just have to make your mind up that you have to get back to being whole," Bourque said. "Patience is required to get that process underway."