Live from the 'NC'
Hoover Video Productions broadcast football games during the pandemic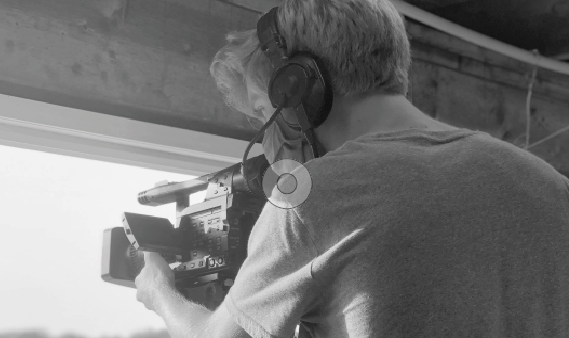 High school football in Ohio is a tradition unlike any other.
Whether a big city or a small town, communities across the Buckeye State pack into stadiums to watch student athletes battle it out on the gridiron for 48 minutes under the Friday night lights. But in a world where peoples' daily lives are impacted by COVID-19, high school football has seen a lot of change.
Hoover High School athletic director Mr. Tim Walker said getting ready for the fall sports season was unlike anything he has had to prepare for, thanks to those changes.
"We had some athletes begin working out on June 1, but every week or two there was a different order and different elements on what we were allowed to do," he said. "We normally plan for the future in the summer but this year, we didn't know what the future would look like in the fall so we were really just going day by day."
A six-game regular season, every team goes to the playoffs regardless of their record, and there is no shaking hands before or after the game — these are just some of the differences that programs have to get accustomed to seeing for the 2020 season.
This year, to encourage social distancing, each player, cheerleader and band member is given a limited number of tickets to hand out to close friends and family, which will hold Memorial Stadium to a specific capacity.
With most of the general public not being able to see the Vikings in person, there had to be some brainstorming. Then, the idea of livestreaming the games came about.
"We were never allowed to live-stream Friday night football until this year when the OHSAA changed the rule in August to accommodate some of the COVID restrictions," Walker said. "Hopefully, this will alleviate some of the pain of not having people going to the games. "
So with some help from Q92, Hoover's award-winning video productions team, led by Mr. Tim McCarty and Mr. Tom Wilson, broadcast game-day coverage for the three home games the Vikings had this season.
Senior Logan Jeffries works inside Hoover's television production truck, the Mobile Storyteller, on game days.
"Every week, there are hours of setup and rehearsal to make sure the crew knows exactly what they need to do," he said. "The cameras must be taken upon and wired to the Storyteller so the game can be broadcast, and the six crew members must be aware of their responsibilities for the game that week."
With Jeffries wanting to go into video productions as a career, he believes that this is a great way to get experience early in the field.
"With this opportunity, I will gain the experience and skills I need to get a job in the field of video productions," he said. "It looks good on college applications as well."
The idea became so popular the North Canton Chapel took advantage of the livestreams in a unique way. Every game, they hosted watch parties in their back parking lot, inviting any community members to pull out a chair or a blanket and watch Hoover Viking football on the big screen from their car.
Alex Cook is the founder of the watch parties and he said the community response has been very much appreciated.
"Parents are excited that their kids are given the opportunity to watch and be with friends, students are excited that they can watch the games with their friends and get the high school football game experience together," he said. "It's great that we're giving kids an avenue of normalcy."
Cook played football and baseball at GlenOak as teammates with future NFL players Brian and Mike Hartline his freshman year of high school. Due to a spine injury during his sophomore year playing baseball for the Eagles, it ultimately cut his high school athletic career short. However, thanks to those two years on the field, Cook understands the relationship between program and community.
"When the team wins, the Saturday after is a day where the community celebrates," Cook said. "When the team loses, the community is quick to encourage on that day and they are looking forward to next week with anticipation and excitement. High school football has a way of bringing the community together like nothing else can."
The response from city members has been extraordinary, and Walker believes he can see live streams happening in a post-COVID world, but it might have to come with a price.
"I think one of the key issues is if we are going to livestream games in the future, do we go after monetizing so we don't lose revenue on people who choose not to come," Walker said. "Our ticket revenue pays for our athletic department, and we need to be able to monetize that if we are going to continue the live streams, but those are questions that we are going to tackle as we get through this pandemic."
The games were free of charge to watch, and even though a majority of North Canton may not be able to go into Don Hertler Sr. Field this fall, they received just a little more normalcy in a time that athletes, coaches and fans alike will never forget.