Join the Club
Hoover brings students together one group at a time
At Hoover, students are provided many different options to get involved. Some excel in their academic classes, work hard in sports or become a part of the multiple career pathways offered. For students that want more, many have found another way to express themselves and become involved: clubs. From Juggling to Improv, the variety of clubs at Hoover allows students to follow and explore new interests, make new friends and become a part of something great.
Hoover currently offers more than 15 clubs. Mr. Jim Draher has been the advisor for Chess Club for five years.
"Chess Club is fun because I get to watch the students interact and make some friendships with people they don't normally see," Draher said.
Like Chess Club, other clubs allow for students to meet new people with similar interests, and many students get to socialize with people of different ages that they do not get to see in class. Clubs are beneficial because they provide a sense of unity among Hoover, bringing all students together despite their differences.
For students hoping to have more of a leadership role in the school, Pep Club and Student Council weigh in on important decisions for the students. Many students who want to further pursue their interests join Garden Club, Art Club or Fellowship of Christian Students. For those wanting to explore world languages, Hoover provides ASL Club, Spanish Club, German Club and French Club.
Gay-Straight Alliance, known as GS+A, "focuses on promoting fair treatment for and opposing bullying of ALL students at Hoover. GS+A is a club created to assure a safe environment where productive discussions and activities can be held regarding the LGBTQ+ community," according to the NCCS website. "Allies and members of the LGBTQ+ community join together to achieve this goal. Our mission is to be a positive and inclusive force at Hoover High School."
With so many different types of clubs, students can enjoy many diverse activities.
"I think that clubs are so important," Draher said. "Students can explore new things and help with school spirit."
Not only do students have a large role in these clubs, but so does the staff of Hoover. Most of these clubs are run by a teacher who devotes their time outside of school to bring these clubs to life. One of those teachers is French teacher and club advisor Miss Susan Schilling,
"In French Club, sometimes we watch French movies or celebrate French holidays," she said. "We take part in the annual International Dinner with the other language clubs in December, and we have our own French Club banquet at the end of the year."
Like Schilling, many others see the importance and fun in joining clubs. For students looking farther into the distance, clubs make them well-rounded and can show colleges how involved they are at school. Many colleges look particularly for club involvement, which is another reason why Hoover encourages students to join clubs and provides them with so many options.
Senior Kara Martin has been actively involved in clubs since she was a freshman. Martin is passionate about her clubs and remains active in the ones of which she is a member.
"I am currently involved in five clubs," Martin said. "My favorite out of all of them is Student Council because I like to have a say in what happens at school."
Martin urges other students to join as many clubs as possible. She believes that these clubs have caused some of her best memories that will follow her out of high school.
"One of the best times I've had in school is at Spanish Club," Martin said. "I have so much fun with my friends and getting to take leadership as a Spanish [Club] Officer."
Schilling also believes that joining clubs at Hoover is important because it leads to much bigger things.
"In twenty years, most of us aren't going to remember homework assignments or specific lessons, but we are going to remember the fun, social activities and being involved in clubs during your high school years are a part of that," Schilling said.
About the Writer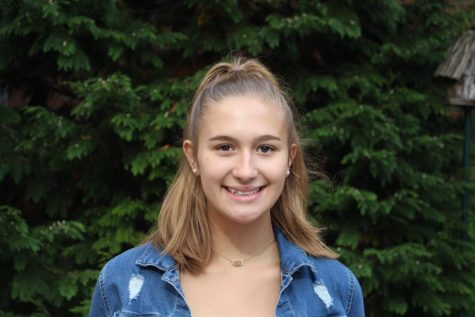 Emma GIlmore, Scene Editor
This is my second year on staff. I enjoy taking pictures and writing in scene. I love newspaper and am excited for my senior year on staff!